About our world-class facilities
The University of Michigan consistently ranks as one of the finest academic and research institutions in the nation. Ford School students are encouraged to utilize the full range of university academic and research facilities in support of their studies.
Weill Hall
This beautiful, world-class academic facility opened its doors in the fall of 2006. Weill Hall brings all of the Ford School 's research centers, students, faculty, and staff together in one building.
A space to learn and engage with speakers:
Classrooms - Classrooms range in size from seminar rooms holding fewer than 20 students to the auditorium, which holds over 200. Conference rooms and seminar rooms can be reserved by students, and are equipped with instructional and multimedia resources.
Research Centers - The study of public policy is very much an interdisciplinary endeavor. To maximize the effectiveness of interdisciplinary work, the Ford School is home to or co-sponsor of a number of multi-disciplinary research centers that focus on policy concerns.
 A space to study and collaborate: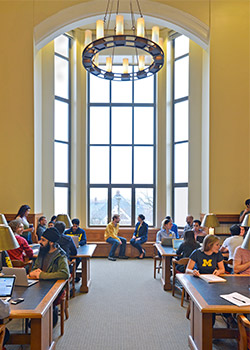 Towsley Reading Room - The Towsley Reading Room offers a quiet space for study and group work. Course books on reserve can be found here, along with comfortable seating for students working on class projects. 
The Great Hall - During the day the Great Hall is lively, as students pass in between classes and interact with speakers, staff, and faculty. Receptions are often held here, immediately before or after public lectures. At other times, the Great Hall is a quiet working space for students.
Hudak Computer Classroom -  The Ford School recognizes the importance of information technology in policy making and provides students with the tools and training needed to take full advantage of new systems and related developments. This computer facility, an ITS campus-computing site, and other University computing sites located around campus are open to students 24 hours a day.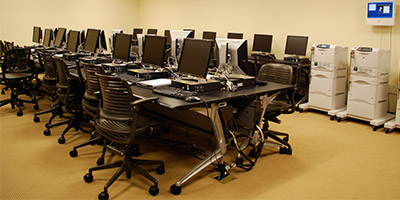 Sigma Phi Epsilon Study Room - Constructed with a generous gift from the Sigma Phi Epsilon brothers (whose house used to occupy our corner of State and Hill), this study room seats six, allowing small group collaboration. 
Student Lounge - Lockers, couches, tables, refrigerator, microwave, sink, television, and access to the patio, the student lounge is a great place for students to unwind, re-charge, and socialize.
Student Organization Office - a meeting and work space for student organizations.
A space to seek support:
Student & Academic Services Suite - Student and academic services staff offer information, answers, and support.
Faculty and Graduate Student Instructor Offices: Academic experiences happens both inside and outside the classroom; our faculty members and graduate student instructors have offices where students can visit to ask questions or attend group office hour sessions.
Graduate Career Services Suite - The Office of Graduate Career Services is a resource for graduate students investigating internship and career leads. The suite offers computers, tables and chairs, office space, a small library, and career counselors.
Interested in reserving a room at Weill Hall? Learn more here.
Academic facilities around the University of Michigan
U-M Research Centers
Other U-M research centers with which the Ford School has regular interaction include the Institute for Social Research, the nation's longest-standing laboratory for interdisciplinary research in the social sciences, and the Inter-University Consortium for Political and Social Research, which has one of the world's largest archives in the social sciences.
Ford School faculty members conduct research in conjunction with numerous other research centers on campus, including: The Center for the Study of Complex Systems, the Graham Environmental Sustainability Institute, the Office of Tax Policy Research, the International Institute, the Institute for Research on Women and Gender, the Economic Research Initiative on the Uninsured, the William Davidson Institute, the Population Studies Center, and many more.
University Library
Consistently ranked as one of the top ten academic research libraries in North America, the University Library makes available an extraordinary array of resources and services. Nineteen libraries on the University of Michigan campus offer a wealth of resources in traditional as well as digital formats. The library's expert staff is committed to helping patrons tap the full potential of these information resources and to providing a full spectrum of assistance for research and teaching. Staff help students at every step in their educational career and work closely with faculty and graduate students to support their research needs.
Print collections number over 7 million volumes, covering thousands of years of civilization, from papyri to reports of the latest advances in science and medicine. The library's primary commitment in building collections is to meet the research and instructional needs of University of Michigan faculty and students. In doing so, the breadth and depth of subject, date, and language coverage makes the University Library's collection an international resource in support of virtually all fields of scholarly endeavor.
In addition to the impressive array of print resources, the University Library's premier digital library creates and makes available text, image, and other online collections to scholars and readers around the globe. These carefully curated digital resources complement and extend the traditional holdings of the Library.