David Bohnett Foundation Leadership and Public Service Fellowship
City of Detroit Mayor's Office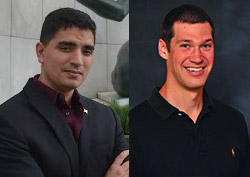 Brian Garcia and Brian McMillian (L-R)
Brian Garcia and Brian McMillian
Summer 2014
Brian Garcia received his BA in psychology from the University of Michigan in 2008. A veteran of the U.S. Army, he spent a year in Kandahar, Afghanistan, where he created city-wide community development projects. Brian is interested in education policy, and he currently works as a program coordinator at Racquet-Up, a Detroit-area youth development program. He joins the Ford School as a dual degree candidate at the Ford School and the Ross School of Business.
Brian McMillan will matriculate as a dual-degree candidate at the Ford School and the Ross School of Business. He received a BA in government from Dartmouth College in 2008, and subsequently worked for BTS-USA, a global telecommunications operator, as a senior consultant. Brian joins the Ford School from Teach for America, where he currently teaches elementary school students in San Francisco. His interests include educational policy and state and local government.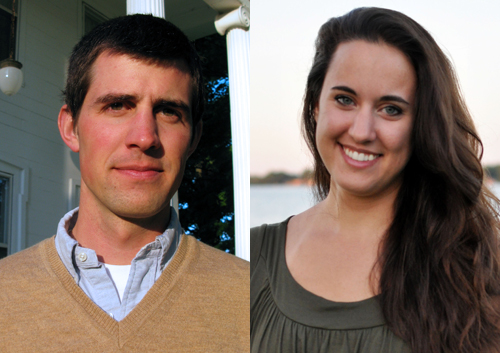 Andrew DeLeeuw and Adrianna McIntyre (L-R)
Andrew DeLeeuw and Adrianna McIntyre
Summer 2013
Andrew DeLeeuw joins the Ford School after serving as a senior program manager for City Year Detroit, an AmeriCorps program that provides in-school and after-school tutoring and extracurricular programing to help K-12 students in Detroit schools thrive academically and socially. Prior to joining City Year six years ago, Andrew graduated from Michigan State University with degrees in philosophy and English.
Adrianna McIntyre received her BS in cognitive science from the University of Michigan in 2011, and currently facilitates clinical research regulation at Children's Hospital of Michigan and the Wayne State University School of Medicine. She also has participated in behavioral research on high-risk youth in the Bahamas. Adrianna is interested in health care policy and the regulation of emerging technologies.
Diana Flora and Stephanie Chang (L-R)
Stephanie Chang and Diana Flora
Summer 2012
Stephanie Gray Chang is pursuing her Master of Public Policy and Master of Social Work degrees at the University of Michigan. Stephanie is a social work/community outreach intern with the James and Grace Boggs School in Detroit and a research assistant for the University of Michigan's Program on Intergroup Relations. She previously served as the deputy director for the Campaign for Justice, which heads a broad-based coalition of organizations and individuals from across the political spectrum fighting for a fair and effective public defense system in Michigan. She served as an organizer for Michigan United/One United Michigan, building local volunteer-led coalitions to educate the public about affirmative action and mobilize voter opposition against Proposal 2 in 2006. She is the immediate past president of Asian & Pacific Islander American (APIA) Vote-Michigan, which serves the APIA community through civic participation, advocacy and education. Stephanie is a University of Michigan 2005 graduate, with a degree in Psychology and a minor in APIA Studies.
Diana Flora is currently pursuing a dual master's degree in public policy and urban planning at the University of Michigan (U-M). She is concentrating in community and economic development. After receiving her BA from U-M in 2009, she moved to Detroit working first as an AmeriCorps member for Gleaners Community Food Bank and then as campaign manager for State Representative Rashida Tlaib's 2010 re-election race.


More
At the Ford School, Flora is one of two 2012 David Bohnett Foundation Leadership and Public Service Fellows. At the Taubman College of Architecture and Urban Planning, Flora served for one year as the Detroit Outreach Chair for the Urban Planning Student Association board. Flora is specifically interested in the integration of social activism and policymaking to address urban challenges.
Internship: Summer 2012
In the Office of Mayor Dave Bing, Diana Flora and Stephanie Gray Chang worked with the Chief Operating Officer (COO), mayoral staff, and department directors on policy challenges related to Detroit's ongoing budget crisis and maintenance of core services. Stephanie and Diana helped the Mayor's office map out realistic implementation timelines for labor term changes in consultation with Human Resources, Labor Relations, and Benefits Administration. In order to do so, they analyzed provisions of the Financial Stability Agreement between Detroit and the State of Michigan, Detroit civil service rules, and other relevant documents. Stephanie found, for example, that medical plan changes would take 120 days to take effect and that cost savings would not be realized until the second quarter of the fiscal year. Reduction in force would similarly not take effect immediately, and would be significantly affected by the reshuffling required by city civil service rules. Diana and Stephanie also worked with department directors to research how services could be shared across municipal jurisdictions or among quasi-governmental agencies.


More
During the last portion of the internship, Diana and Stephanie helped envision a new distribution of streetlights across the city. Using streetlight data and ArcGIS—a geographical mapping system—Diana developed spatial analysis for each phase of the Mayor's four-phased streetlight strategy. Her analysis visualized certain infrastructural challenges that Detroiters experience daily: systematic theft of streetlight coils, outdated technology causing cascading outages, and the blight of broken fixtures. Stephanie provided cost analysis for the street light strategy phases and provided a timeline to illustrate the phased approach of lighting changes and neighborhood input. The Mayor's Office, the Public Lighting Department, and the future lighting authority will use their analysis and the phased streetlight strategy as a guide to illuminate the city.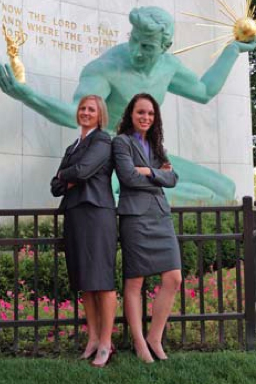 Schneider, Palazzola (L-R)
Elizabeth Palazzola and Julie Schneider
Summer 2011
Julie Schneider and Elizabeth Palazzola were the inaugural recipients of the David Bohnett Public Service Fellowship, which provides two years of tuition support and a summer internship in the Detroit mayor's office. Schneider and Palazzola entered the Ford School MPP program in fall 2010.
Working in Detroit is nothing new for Schneider, who is the head softball coach at Cass Technical High School and has worked with Michigan AmeriCorps Partnership on Detroit's east side, as well as in donor relations with the Detroit Symphony Orchestras.


More
"Though I did not grow up in Detroit, I have had an affection for the city since I was a child," said Schneider, a Michigan State graduate who is pursuing a dual master's through the Ford School and the Taubman College of Architecture and Urban Planning. "As an adult who now lives and works in the city, I am continually inspired by its charm, challenges, and resiliency."
Palazzola (BS '07) moved to Detroit after graduating from U-M's Program in the Environment. Prior to pursuing her MPP at the Ford School she was a research technician at Wayne State University's Center for Urban Studies.
"I was immediately drawn to the fellowship because of the stated focus on public service, local government, and social activism, especially as they pertain to Detroit," Palazzola said. "As a three-year Detroit resident, I have greatly enjoyed and appreciated learning about and engaging in the city. I am very grateful for the opportunity to continue this process by working in the Detroit mayor's office, and for the support given to our community by the Bohnett Foundation."