The University of Michigan tribute to Mrs. Betty Ford
WHEN:
Thursday, October 11, 2012

3:00 pm

to

4:30 pm
ET
Join the conversation: #umbettyford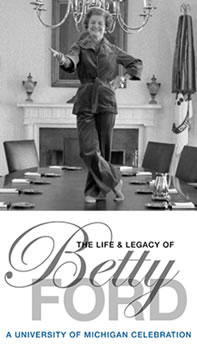 A trailblazing First Lady who brought candor and integrity to our national conversation. A passionate advocate of women's rights, Mrs. Ford engaged challenging social issues at great political risk and with a rare personal vulnerability. Her considerable impact on American life and culture has only deepened with time.
Keynote policy lecture by Ambassador Nancy G. Brinker, founder of Susan G. Komen for the Cure
Performance by Miki Orihara, principal dancer, Martha Graham Dance Company: Letter to the World excerpt -- "Not knowing when the dawn will come, I open every door"
Tribute remarks from President Mary Sue Coleman, Michael Ford, and other special guests
Special thanks to the Gerald R. Ford Presidential Library and Museum for archival assistance and photographs. www.fordlibrarymuseum.gov
The University of Michigan tribute to Mrs. Betty Ford:
The University of Michigan tribute to Mrs. Betty Ford