Ford School BA Future Leaders Fund
The Ford School BA Future Leaders Fund is an endowed fund to support student fellowships, internships, travel, professional development, and other initiatives to enhance the student experience at the Ford School.
There's a complexity to the world we live in, a complexity that students who choose the Ford School's undergraduate degree program well understand. Addressing problems today—whether those problems relate to law or business, equity or social justice, international peace or urban education—requires an interdisciplinary, analytic, and strategic approach. Our public policy degree program provides students with those skills, so they can go on to pursue their own passions. The permanently endowed BA Future Leaders Fund will bolster this work far into the future by: 
Providing scholarships
In 1960, state support made up 78 percent of the University of Michigan's General Fund; today, it has dwindled to 16 percent. Tuition and fees have risen to make up the difference, and the University has worked to build its endowment for student scholarships, but all too often students incur the cost, graduating with a debt burden that limits their potential. The BA Future Leaders Fund will provide scholarships to an ever-growing number of undergraduate students, so they can pursue a liberal arts degree in public policy regardless of family financial means. 
Enhancing the student experience
In addition to providing scholarships, the BA Future Leaders Fund will enhance the experience of all of the Ford School's undergraduate students by underwriting costs associated with worthwhile internships in our nation's capital, our home state of Michigan, or anywhere else at home or abroad; valuable professional development and career counseling opportunities; and active learning programs that allow students to tackle real-world policy problems in the classroom.
The impact of leaders
While the Ford School's undergraduate degree program was established only seven years ago, an impressive number of bachelor's alumni have gone on to do inspiring work in the public and private sector. About 15 percent win post-graduation positions with Peace Corps, AmeriCorps, Teach for America, or the Fulbright program—prestigious public service initiatives that continue to prepare them for leadership. 
Another 25 percent have chosen to continue their studies—pursuing advanced degrees in law, medicine, public policy, and other fields. A number have entered the private sector, bringing the power of policy thinking to for-profit think tanks and corporations. The majority, however, are addressing public policy challenges in the public sector as legislative aides, non-profit project managers, program analysts, directors of public-sector organizations, and more. 
Philanthropy in action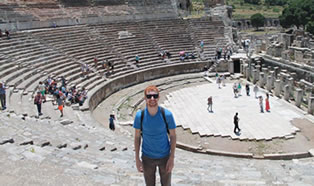 "I interned at Bilkent University in Ankara, Turkey, teaching English to help students pass a required language exam in order to attend the university. I had an absolutely amazing time teaching, learning about Turkish culture, meeting new people, and traveling all around the country. Aside from the small stipend given to me by Bilkent University, I did not receive any other funding. Therefore, I am extremely grateful for the generous support for my internship."
- Jeremy Batt (BA '13)
Focus area: Sustainable Urban Planning
Internship recipient of annual gifts from alumni and friends