Instructional and multi-media resource guidelines
The Gerald R. Ford School of Public Policy has five classrooms equipped for presentation of computer programs (laptops and built in windows desktops), DVD, and VHS media. There are three classrooms equipped with University of Michigan televisions and two rooms equipped for teleconferencing. There is also an ITCS campus-computing site that has computer projection for teaching students in the lab. In addition, the school has an inventory of mobile equipment that is available for use within Weill Hall for Ford School community members. Users of any Ford School equipment are bound to the following policies and by requesting the services are acknowledging, understanding, and accepting these policies.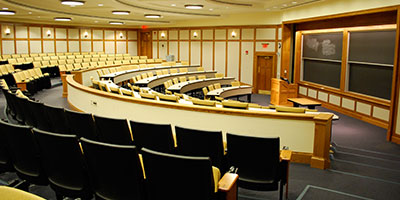 Reserving equipment and services
Reservations for instructional and multimedia services must be made through the online room request web form.
Equipment reservations that do not require assistance must be made at least three business days prior to the requested date. Checkout of needed equipment will be from 3131 Weill Hall.
Requests for event setup or requests to have a Ford School computing staff member present during the event must be made at least five business days prior to an event.
Request for video conferencing services must be made at least two full weeks prior to the event. This timeline is because video conferencing requires communication and testing with the other location.
Request for Ford School services are taken on a first- come, first-serve basis. The facilities and computing staff will do their best to accommodate all requests, but no request is guaranteed until you receive a written confirmation.
If you need audio visual services for your class or event that takes place at other campus locations, please contact the respective facility and check with them regarding resources that you may use prior to requesting Ford School equipment.
Training and tech support for room-specific equipment
Many classrooms located in Weill Hall are equipped with integrated audio visual equipment. These rooms require that the users be familiar with the system prior to their event or in limited circumstances that a Ford School AV tech be present.
Training sessions will be offered at the beginning of each term to acclimate faculty, staff and students to the equipment. If a user cannot make these sessions, there will be an instructional technology help station located on the first floor during the first week of classes to help users with last minute setup issues.
Anyone wishing to use the audio visual system without the presence of Ford School facilities staff is requested to complete training prior to use.
The Ford School computing staff will do its best to accommodate all requests to have staff present during Ford School events. Due to limited staffing it may not be possible to fill all requests. To better ensure availability of staff please make requests for staffing as far in advance of the event as possible.
Ford School staff may not be available for support for events later than 5:00 p.m. Please check with Ford School facilities prior to your event.
Mobile equipment pool
Training is not required but is available to use items from the equipment pool. User guides are provided.
Users will be required to pick up and setup the equipment unless special arrangements are made with the Ford School facilities staff.
Equipment should be returned no later than one hour after the event end time or at a specific time agreed upon by the Ford School facilities staff. Equipment that is used in the evening must be kept in a secure location and returned promptly the following morning.
All Ford School equipment is meant to stay in Weill Hall. Users needing audio visual support in other facilities should contact the respective facilities. If you need help determining what you may need at off site events the Ford School computing staff is available for consultation.
Video conferencing
Video conferencing is built into rooms 1120 and 1230. A mobile video conferencing unit is available for use in other rooms.
In most cases requests for use of video conferencing need to be made at least two weeks prior to the event to allow the Ford School facilities staff sufficient time to contact the connecting parties and obtain all the necessary information.
Ford School computing staff may or may not be present during the event. This will be decided on a case-by-case basis.
Users need to supply the Ford School staff with the contact information for the connecting sites' technical teams before a reservation can be confirmed.
The following timeline must be observed in order to avoid technical malfunctions:

Two weeks out—Facilities staff will contact the far site's technical staff to discuss all technical issues and set up a time to do a test conference.
One week out—A test conference should be conducted by this point. Facilities staff will alert the event contact upon successful completion of the test conference.
Click here to download the Instructional and Multi-Media Resources Guidelines as a PDF