Travel and engage
The Ford School offers graduate students for-credit opportunities to travel and actively engage with real-world policy issues. the courses described below are offered each year; others are developed by faculty and students as unique offerings.
International Economic Development Program (IEDP)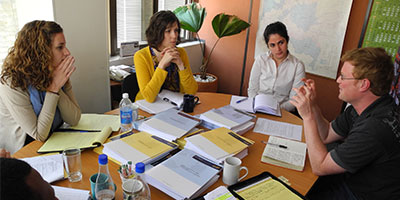 Each year, the International Policy Students Association (IPSA), one of the Ford School's most active student groups, elects student leaders and works with a faculty member to plan a trip to an emerging market country during the winter term.
Learn more about the program and past trips.
Introduction to Chinese Policy
The Chinese Policy Course, developed in partnership with Renmin University, aims to improve Ford School students' understanding of China and Chinese students' understanding of the United States. 
The course has two components: a classroom portion at the Ford School during winter term, which provides a general introduction to China and its policy and economic environments, and a trip to Beijing in May. While in Beijing, Ford School students interact with Renmin students and faculty, meet with business and government leaders, and explore Chinese cultural opportunities. An application process is required to register for this course and applications are due in early October. Visit the Ford School's course database for more information.