The Ford School feed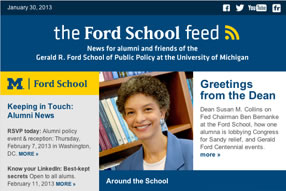 'The feed' is an email news source for alumni and friends of the Ford School. 'The feed' is emailed to all Ford School alums, students, faculty, staff, and friends a few times each year.
Not an alum, but want to get 'the feed?' Email the-feed@umich.edu.
Are you an alum who didn't receive the last edition of 'the feed?' Update your contact information today.
Feed editions