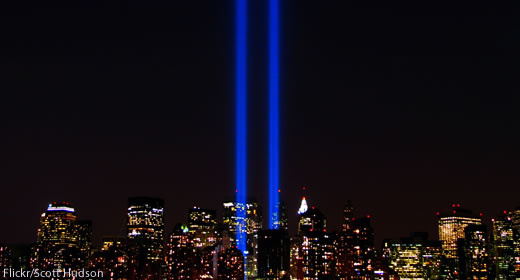 On the morning of September 11, 2001 Patrick Anderson (MPP '83) fled Ground Zero as the second plane flew "directly over his head" prior to striking the South Tower, eventually finding comfort in the arms of a stranger – Emily Maroney, a local New York photographer.
In "Strangers when we meet," Deborah Holdship's Michigan Today article details Anderson's story, which was recently featured on PBS' We'll Meet Again—a show hosted by Ann Curry that explores how strangers form deep bonds with one another during times of crisis in order to overcome monumental struggle. Referring to his own continued relationship with Maroney, Anderson recounts how a stranger's act of kindness served as a reminder that "there's a goodness in human beings."
Experiencing his own struggles to maintain a long-distance friendship with Maroney, Anderson has actively sought to unite himself and others with fellow 9/11 survivors to satisfy his "survivor purpose." Anderson stresses that tragedy should not be the requirement for strangers to put aside their personal differences for the sake of unity. In his goal to bring together survivors and honor the victims, Anderson co-founded the nonprofit Michigan Remembers 9-11 to "memorialize 19 people with connections to Michigan, including U-M alumni."

A passionate Wolverine, Anderson's wife Madhu (Rustagi) Anderson also graduated from the Ford School with an MPP in 1984; Anderson's oldest son Neal graduated from U-M two years ago, while his youngest son Sean is currently a sophomore at U-M's College of Literature, Sciences, and the Arts.