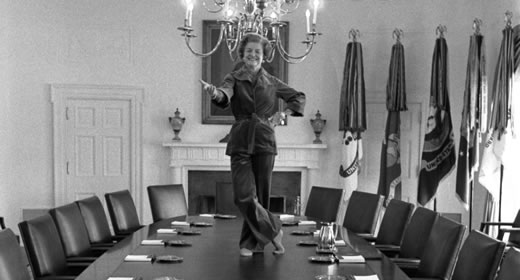 In 1994, former White House photographer David Hume Kennerly asked former First Lady Betty Ford if he could publish a photo he had taken on her last day in the White House. In the photo, Ford was posed atop the Cabinet Room table. As Kennerly recalls in a 2008 Smithsonian Magazine article, President Gerald R. Ford hadn't seen the photo, and was surprised when he did.
"Well, Betty, you never told me you did that," Gerald said, according to Kennerly.
"There's a lot of things I haven't told you, Jerry," Betty quipped.
The co-founder and longtime chair of the Betty Ford Center was well known for her sense of humor, as well as her determined activism, openness, and compassion. On April 8—what would have been her 100th birthday—we celebrate the legacy of Betty Ford, and remember the profound impact she had on so many lives.
Betty Ford found herself thrust quite reluctantly into the national spotlight when her husband, Gerald R. Ford, became President of the United States. Less than two months after entering the White House, Betty Ford was diagnosed with breast cancer—at a time when stigma was strong enough to keep the disease in the shadows.
As would become characteristic, Ford chose to speak publicly about her struggle, boosting awareness in the media and saving countless lives as thousands of women across the country were encouraged to get breast examinations.
Just like that, Ford recognized the power that came with her position—and she never looked back. It was an "aha moment," says Lisa McCubbin, author of a forthcoming biography about Betty Ford. "She went, 'Wow, I have this platform, and people will listen to me.'"
Next, Ford set her energy on supporting another policy topic she felt strongly about: the proposed Equal Rights Amendment, which would have explicitly guaranteed equal civil rights to all, regardless of gender."
"She started calling congressmen and senators and urging to get it passed. And that was something First Ladies hadn't really done," says McCubbin.
Susan Ford Bales, daughter of Betty and Gerald, remembers her father's chief of staff asking Betty to stop making the calls from inside the White House. He believed the calls should be made from an outside line. "So my mother had an outside line put in so she could still make the calls from her office," Bales says. "She wasn't going to let somebody stop her from doing something she truly believed in."
What Ford is perhaps most remembered for, however, was her decision to turn her personal battle with alcohol and drug abuse—again, a battle she courageously shared with the public—into a lifelong campaign to support others facing addiction. The cause took her from researching and helping to develop treatment programs at the Betty Ford Center, which opened its doors in 1982, to testifying before Congress in support of health care insurance coverage for addiction treatment.
Before she died in 2011 at the age of 93, Ford received multiple awards for her advocacy work, including the Presidential Medal of Freedom, the Congressional Gold Medal, the Susan G. Komen Foundation Award, and induction into the Michigan Women's Hall of Fame.
By all accounts Betty Ford had the courage to bring her unapologetic self—her struggles, her integrity, and her advocacy—to the public eye. In a country where breast cancer was only whispered about, views on gender were stubbornly old-fashioned, and a harmful stigma shrouded alcohol and drug addiction, Betty Ford "challenged all that," says Mike Ford, the Fords' oldest son."
Speaking out also meant "she took a lot of negative feedback, especially as First Lady," Mike adds. "But that didn't deter her; she wanted to champion others, and she kept doing that until her final breath."
On her 100th birthday, the success of Betty Ford's efforts can be measured in terms of the thousands of people who have faced breast cancer or substance addiction and found the hope and help they needed. Ford's legacy is also seen in the activism she inspired for those working toward women's rights. And her legacy is here at the Ford School, in the example she sets for today's students and alumni as they aim to become policy leaders.
Nadine Jawad (BA '18), who is slated to speak at the Ford School's April 13 celebration of Betty Ford's 100th birthday, says she admires Ford's determination to utilize her platform to address social issues. "Betty Ford represented a new era of fierceness. Her courage to speak up, despite social norms deeming her voice unacceptable, is inspiring to women all across the world fighting every day to find their voice and gain the right to use it," Jawad says.
What advice would Betty Ford give us if she were here today? Lisa McCubbin, Susan Bales, and Mike Ford offer some ideas: Stick to your principles. Strive to be an informed and fully engaged citizen. Find your 'thing' and stand behind it. Respect those who disagree with you. Don't dwell on the past. Find the humor in everything. Use your power to help other people. Be compassionate. Pass it on.
--Story by Jacqueline Mullen (MPP '18)
---
Below is a formatted version of this article from State & Hill, the magazine of the Ford School. View the entire Spring 2018 State & Hill.