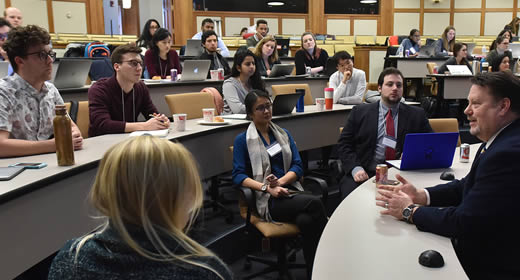 The Ford School is launching an exciting new graduate degree program, the Master of Public Affairs. This 9-month program is targeted toward individuals with 5 or more years of professional work experience related to public policy, public administration, government affairs, or the nonprofit sector. This new degree offering combines training in the Ford School's rigorous applied policy analysis with the development of high-level public and nonprofit management, leadership, and communication skills, focusing on complex domestic and international policy issues of the day.
Master of Public Affairs students will take some courses with our Master of Public Policy students, and will also have several unique learning experiences tailored to their small cohort of accomplished professionals. This includes new courses such as Economics for Public Affairs, Leadership in Public Affairs and a sophisticated applied capstone project for a client. The 33-credit degree program can be completed in 9 months with a full course of study, and includes the opportunity to take courses not only from the world-renowned Ford School faculty, but from across the University of Michigan.
Students in the Master of Public Affairs program will develop rigorous analytic skills for objective policy analysis, sharpen their communication and management skills, broaden their expertise in a broad range of public affairs issues globally, and actively engage in leadership development. Upon completion, Master of Public Affairs graduates will be prepared for key senior roles in a variety of governmental institutions and public agencies, in the nonprofit sector and in the private sector as well.
We will start accepting applications for the Master of Public Affairs degree in fall 2018, with the first cohort matriculating in September 2019. With the debut of this new degree, we will no longer be offering our Master of Public Administration degree. The new degree program builds upon the strengths of the Master of Public Administration degree while providing some new and innovative learning opportunities that are tailored to experienced professionals. We are grateful to our alumni of the Master of Public Administration degree for their input as we developed the new program, and we're certain that they will be proud to welcome the future graduates of the Master of Public Affairs degree to our community.