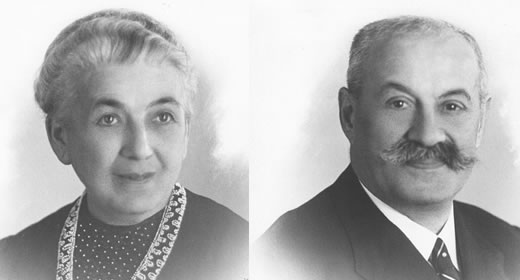 By Mandira Banerjee | Originally published by Michigan News, December 6, 2018 
ANN ARBOR—A $2.5 million gift by the Kohn Charitable Trust to the University of Michigan will establish a new professorship of social justice and social policy at the Gerald R. Ford School of Public Policy.
The professorship, to address the structural injustices within the society, will support a faculty member who gives voice to the disadvantaged in society through scholarly and applied research.
Through this gift, U-M alumnus Harold L. Kohn and his wife Carol K. Kohn wished to recognize his grandparents Hermann and Amalie, who perished in Poland in 1943 during the Holocaust.
"While I never met my grandparents, I know them through the values they taught my father and aunt, and those included concern for all humankind," said Harold Kohn, a professor emeritus at the University of North Carolina. "It is my great privilege to honor their lives through this gift. Through the Kohn Professorship, their spirit will be memorialized to help those living on the margins of society."
The Kohns selected U-M for this gift in part because of Poverty Solutions, a universitywide presidential initiative located at the Ford School that informs and tests innovative solutions to prevent and alleviate poverty.
"I am deeply grateful to Hal and Carol Kohn for their generosity in establishing the Hermann and Amalie Kohn Professorship in Social Policy and Social Justice at the Ford School," said Michael Barr, the Joan and Sanford Weill Dean of Public Policy. "Their memory will be kept alive by the impact this gift will have on research and policy engagement benefitting disadvantaged families."
The gift will build upon the existing strengths of the Ford School, accelerate U-M research, and implement pragmatic solutions that serve victims of injustice.
"Poverty Solutions is deeply committed to building knowledge about the challenges millions of Americans face and taking concrete action that helps alleviate poverty," said H. Luke Shaefer, director of Poverty Solutions. "This gift recognizes that the work we do makes an impact, and it will allow us to leverage our research further to boost economic opportunity, expand educational attainment, and improve health for struggling Americans."
A professor of chemistry, Kohn was taken by the word "solution" in the name, Poverty Solutions.
"In my line of work, a solution brings different chemicals together thereby allowing their transformation," he said. "That is what Poverty Solutions does, too. Combining intellect, research and compassion to bring about change."
Read the biography of Hermann and Amalie Kohn.