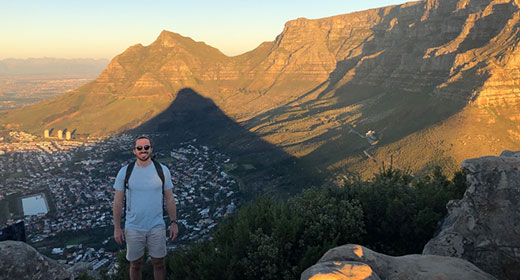 This summer students were scattered around the country and across the globe getting first-hand professional experience during their summer internships. Students are sharing their experiences through InternGrams, a recap of the what, where, and wow of their experiences.
Name: Kyle Jarrett MPP '21
Organization: The Cattellyst Foundation
Location: Cape Town, South Africa
I spent my summer interning with The Cattellyst Foundation in partnership with Ikamva Labantu. With over 55 years of experience serving the communities of Cape Town's townships, The Cattellyst Foundation is one of the largest non-governmental organizations in South Africa. 
My focus was on the township of Langa, capturing perspectives of the complex systemic challenges being faced by the community. The internship position, Cattellyst's Community Strategy and Informatics Analyst, collaborated with leading community problem-solvers confronting challenges in domains such as economics, education, ecology, healthcare, governance, and community context. 
My most memorable moment by far was spending the night in Langa and socializing with the community outside of a work context. Twenty-five years after apartheid, Cape Town (and South Africa as a whole) continue to grapple with segregation, and it's impossible to understand the city without spending a significant amount of time learning about life in a township.