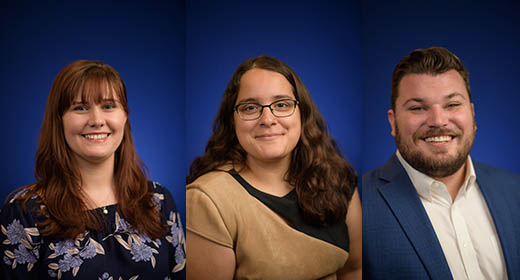 The Ford School has awarded the 2020 David Bohnett Foundation Leadership and Public Service Fellowship to incoming graduate students Alyshia Dyer, Safiya Merchant, and Kevin Naud.
The Bohnett Fellows receive two years of in-state tuition support, will serve a paid internship with the Detroit Mayor's Office next summer, and will attend the U.S. Conference of Mayors meeting in Washington, DC
Since the launch of the fellowship in 2010, Bohnett Fellows have served integral roles in Detroit's public service projects including, but not limited to, infrastructure projects, social justice initiatives, bolstering small business development, and community outreach. The Ford School would like to extend a heartfelt thanks to University of Michigan alumnus, David Bohnett (MBA '80), who established the fellowship, and genuine appreciation to the Detroit administrators who will work with our fellows next year.
Learn more about the Bohnett Fellowship here.
ALYSHIA DYER
An Ypsilanti native, Alyshia Dyer is pursuing dual master's degrees in social work and public policy at the University of Michigan. She received her bachelor's degree in criminology from Eastern Michigan University. Alyshia previously served as a deputy sheriff for the Washtenaw County Sheriff's Office, where she focused on youth-related crime in Ypsilanti as a youth resource officer. In this role, she used community policing and family engagement strategies to deter youth crime. At the Sheriff's Office, Alyshia helped implement Washtenaw County's Handle with Care initiative, which aims to promote communication between law enforcement and schools to help children impacted by trauma. She also assisted with S.U.R.E. (Sisters, United, Resilient, Empowered), a support group created by Florence Roberson and the Sherriff's Office to empower mothers with children in the criminal justice system. Alyshia is interested in restorative justice, poverty mitigation, criminal justice and police reform, and developing the resiliency of youth in the juvenile justice system.
SAFIYA MERCHANT
Safiya Merchant is a former journalist and communications professional focused on enhancing equity in K-12 education and improving mental health resources for families. Originally from Chicago, Safiya graduated from Northwestern University with a bachelor's degree in journalism. She previously worked as a government, crime and education reporter at the Daily Herald in the Chicago suburbs, and as a K-12 and higher education reporter for the Battle Creek Enquirer in West Michigan. At the Enquirer, she reported on school district consolidations, funding challenges and educational equity. Most recently, she worked as the senior staff writer for The University Record, the University of Michigan's newspaper for faculty and staff. In that role, Safiya collaborated with several schools and departments to produce stories about university news, efforts to enhance diversity and inclusion on campus, and the impact of faculty and staff community engagement and scholarship. Safiya serves on the Millennial Board of Ann Arbor's Ozone House, and is a volunteer for SafeHouse Center.
KEVIN NAUD
Kevin Naud grew up in Ann Arbor and is excited to return to Michigan after spending five years in Washington, DC. He earned his bachelor's degree in Philosophy, Politics, and Economics from Denison University in 2014, and was also a member of Denison's swim and dive team. After graduation, Kevin moved to Washington, DC, to intern with a U.S. Senator from Michigan. He then spent over four years doing policy analysis with the National Association of State Workforce Agencies, focusing on workforce development programs and labor market research. Kevin is particularly interested in studying how education and employment programs can alleviate poverty and expand economic opportunity.
David Bohnett is a University of Michigan alumnus (MBA '80) and entrepreneur. The foundation that bears his name is committed to improving society through social activism.