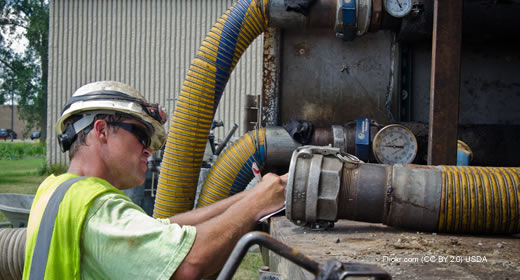 The Flint Water Crisis prompted the state of Michigan to adopt a new Lead and Copper Rule (LCR)—the guidelines that water utilities must follow to ensure the public's health is protected. The most proactive LCR in the country, the University of Michigan Water Center formed a project team, funded by the CS Mott Foundation, to help guide the implementation process. Sarah Mills, senior project manager for the Ford School's Center from Local, State, and Urban Policy (CLOSUP), and Stephanie Leiser, lecturer at the Ford School, shared their policy expertise as part of the team, which this week released its resources and recommendations.
The resources included policy memos to educate decision makers about options to address lead service lines. One details replacing lead service lines through increased water fees, using Grand Rapids as a case study that concludes with lessons learned. Another draws on examples from other states to demonstrate how one funding source, the state drinking water revolving fund, can be used to facilitate lead service line replacement in Michigan. A third assesses Eau Claire, Wisconsin's use of state grants and increased water rates to replace lead service lines and then assesses the viability of this approach.
Leiser and Mills issued a policy brief on financing lead service line replacement in Michigan that summarizes actionable lessons learned from the memos.
The project team also developed a FAQ that includes answers to basic, public health, finance, and technical questions about the revised LCR, designed to educate customers, water utilities, and public officials.
Explore the full suite of resources on the Graham Sustainability Institute's website.  
Policy memos and brief:
Sarah Mills is a Senior Project Manager at the Ford School's Center for Local, State, and Urban Policy (CLOSUP). She serves as project manager for the National Surveys on Energy and Environment (NSEE) and the Center's Energy and Environmental Policy Initiative. Sarah's research considers how renewable energy development impacts rural communities, the disparate reactions of rural landowners to such projects, and how state and local policies facilitate or hinder renewable energy deployment. She has a PhD in Urban and Regional Planning from the University of Michigan, a master's in engineering for sustainable development from the University of Cambridge, a bachelor's degree in mechanical engineering from Villanova University.
Stephanie Leiser is a lecturer at the Ford School. Her general area of interest is in public finance, budgeting, and financial management, and she has particular expertise in state and local tax policy, business taxation and incentives, and local government fiscal health. She was previously a lecturer at the Daniel J. Evans School of Public Policy and Governance at the University of Washington, where she earned her PhD in 2014. Stephanie has taught courses in public budgeting and financial management, tax policy, nonprofit financial management, and microeconomics. A Ford School alum (MPP '05), she has also worked as a tax policy analyst for the Michigan legislature and continues to be involved in state and local fiscal policy in Lansing.