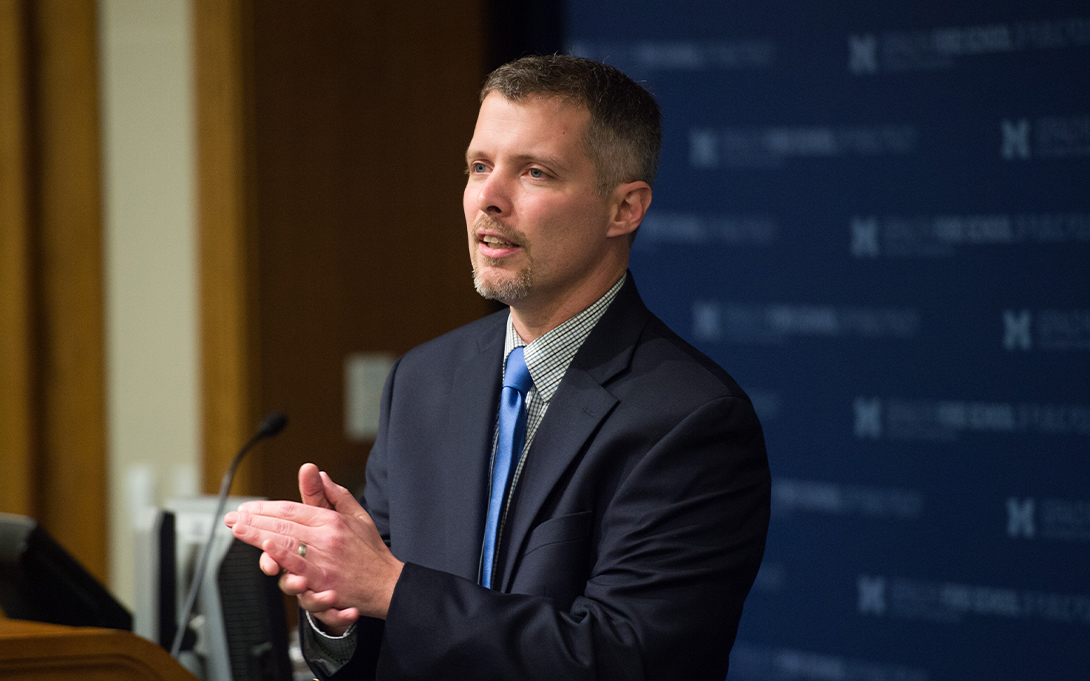 Today the Regents of the University of Michigan approved H. Luke Shaefer's appointment as the inaugural Hermann and Amalie Kohn Professor of Social Justice and Social Policy at the Gerald R. Ford School of Public Policy, for a five-year term, through February 2025.
In 2018, with a generous gift to the Ford School, U-M alumnus Harold L. Kohn and Carol K. Kohn and the Kohn Charitable Trust established the Hermann and Amalie Kohn Professorship in Social Justice and Social Policy. The gift will support a faculty member who, through scholarly and applied research focused on social justice, is giving a voice to those who are disadvantaged in society.
"The Kohns' gift is a very personal one," said Michael S. Barr, Joan and Sanford Weill Dean of Public Policy. "With this gift, they honor their grandparents who lost their voice in the Holocaust. The Kohns have become close friends of the Ford School, and through their philanthropy, they are making a significant impact on social policy that betters society and peoples' lives." 
The named professorship builds on the Ford School's long-standing strengths in social policy, including research on poverty and anti-poverty policy. The school is ranked as the number 1 social policy program in America, according to the U.S. News and World Report.
Shaefer has established himself as a major scholar of contemporary American social welfare policy. His research and policy engagement focuses on extreme poverty and social welfare policy. He is co-author, with Kathryn Edin, of the acclaimed book, $2 a Day: Living on Almost Nothing in America. Shaefer is the inaugural director of U-M's Poverty Solutions, an interdisciplinary, cross-campus presidential initiative to inform, identify, and test innovative strategies to prevent and alleviate poverty.
"I am deeply honored to be named the Hermann and Amalie Kohn Professor of Social Justice and Social Policy," says Shaefer. "Above all else in my work, I seek to use evidence and analysis to drive real, positive change for families who are vulnerable. The Kohn family's generous gift, in memory of Hermann and Amalie, inspires me to continue on in this, to the fullest extent I know how."
"Luke is the perfect fit for this named professorship. He has committed his career to social justice issues, aligning closely with the Kohn's values," said Barr. "Under his leadership, Poverty Solutions has designed and implemented evidence-based strategies that improve economic opportunity and mobility in every part of the state of Michigan, and is an important voice in national debates."
Shaefer holds a joint appointment with the School of Social Work and the Ford School. SSW Dean Lynn Videka, states, "Luke Shaefer is an exemplary interdisciplinary scholar and leader in the proudest Michigan tradition. The Hermann and Amelie Kohn Professorship in Social Justice and Social Policy supports the important social justice work that Shaefer's research informs, and it supports collaboration between Social Work and the Ford School." 

In November 2019, Shaefer was named special counselor to the director of the Michigan Department of Health and Human Services. In this role, Shaefer spends a portion of his time advising and facilitating discussions on human services and anti-poverty policy. He also serves on the State of Michigan Commission on Community Action and Economic Opportunity. The 12-member commission is charged with reducing the causes, conditions, and effects of poverty and promoting social and economic opportunities that foster self-sufficiency for low-income people.
Shaefer is deeply engaged in policymaking at the federal level as well. He has testified before the U.S. Senate and consulted with a number of the nation's largest social service providers, as well as numerous community-based agencies. 
As our country confronts the economic fallout from the coronavirus, Shaefer has been actively engaged as a public voice in the New York Times and other outlets on the consequences facing low-income families, and in developing policies to help families weather the crisis here in Michigan. For example, Shaefer advised on the Michigan Department of Health and Human Services' decision to defer work requirements for those receiving TANF benefits, has played a supporting role in the process of rolling out new food assistance benefits, and facilitated connections between U-M housing experts and the state that helped in the Governor's decision to halt evictions as families struggle with job loss caused by the downturn.
Harry Luke Shaefer received his Bachelor of Arts from Oberlin College in 2001, and his M.A. in 2005 and Ph.D. in 2008, both in social service administration, from The University of Chicago. 
Shaefer will deliver the inaugural Kohn Lecture on October 29, 2020, at the Gerald R. Ford School of Public Policy.