The Ford School has partnered with five other public affairs schools across the U.S. to launch the Public Affairs Diversity Alliance. more »
In an article published in Behavioral Science & Policy, "Using pay–for–success financing for supportive housing interventions: Promise & challenges," Professor Paula Lantz and researcher Samantha Iovan examine seven housing-related Pay-For-Success (PFS) projects. more »
Assistant professor Natasha Pilkauskas demonstrates that a trend toward three-generation households started long before the 2008 economic crisis—and will likely continue. more »
Sarah Mills, of the Ford School's Center for Local, State, and Urban Policy, is helping community planners and elected officials sort through the noise and make decisions based on data and research. Mills has surveyed farmers and residents across the state and studied the local impact of wind turbines in different types of Michigan communities. more »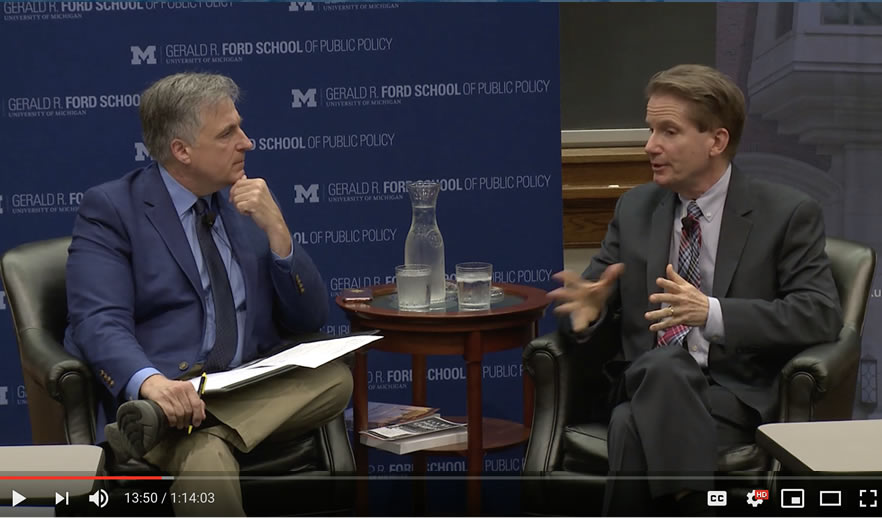 Barry Rabe discusses his new book titled "Can We Price Carbon?" »
HEADLINES
"I think Americans are often very concerned when they see leaders with authoritarian tendencies telling their supporters things that are false over and over again and attacking other sources of information. And if that worries you when you see it abroad, it should worry you when you see it here too," Brendan Nyhan on fake news obscuring the truth.
"If local politics in our biggest cities takes a turn for the worse, it might not take much to push local democracy over the partisan cliff." Thomas Ivacko on how the national partisan divide is impacting local communities' discourse.
"A crucial part of the arsenal for shaping the future of gene editing is hiding in plain sight: the patent system." Shobita Parthasarathy calling on governments to use patents to regulate CRISPR–Cas9, like they've done with past technologies.
"Hybrid courts require domestic and international partners to share the steering wheel. They tend to function well only when the two drivers want to head in the same general direction." John Ciorciari discussing the efficacy of international tribunals to police human rights offenses.
Year in review - #FordSchoolRewind
#fordschoolrewind: This year, @Harvard and @UMich's #UMPovertySolutions director @profshaefer announced a new partnership to take on #economicmobility and the #opioidcrisis in Detroit. http://myumi.ch/6QKOq Tweet »
One of our favorite #fordschoolrewind stories: @umich students crave productive conversations across difference, and @WeListenUSA answers the call to bridge political divides. Read more from @ClickonDetroit / @allabouta2 Tweet »
Insight to action: the Ford School faculty
Poverty and economic development. Health and human security. Energy and the environment. Alongside their critical work as teachers and mentors, Ford School faculty members are nationally and internationally recognized experts in these and other vitally important policy areas. Learn more about our faculty.