Events @ the Ford School
The Ford School makes Ann Arbor a destination for distinguished policymakers from around the world.
Upcoming events
In the past few years, we've hosted Secretary Hillary Clinton, Secretary Condoleezza Rice, Ambassador Samantha Power, Ambassador Susan Rice, Secretary Lawrence H. Summers, Deputy Secretary of State Steve Biegun, former U.K. Foreign Secretary David Miliband, Michigan Secretary of State Jocelyn Benson, former National Security Adviser Lt. General James Clapper, Secretary Denis McDonough, Michigan U.S. Representatives Debbie Dingell, Fred Upton, Peter Meijer, and Elissa Slotkin; and many more.
The Ford School hosts dozens of events every year with the goal of providing students, faculty, alumni and the public with insight into key policy discussion on a range of topics.
In addition to livestreamed public events, our visitors meet in small groups with students and faculty, going in-depth on critical policy and political issues, or exploring and coaching for career development and leadership lessons.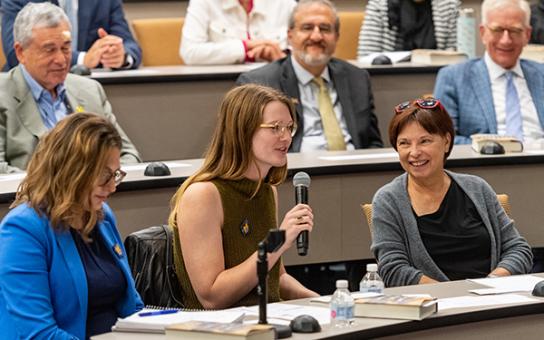 Students are active participants in our public events. Students are often the source of connections with prospective visitors. And they lead the question and answer sessions that close each event. 
Our public events are presented with generous support from partners and friends of the Ford School. Learn more about our named lecture series.
Following her public event at the Ford School this past Monday, Martin Luther King Jr. Day, Ambassador Susan Rice sat down with 20 Ford School...
Finish reading