Meet your alumni board
Alumni board members strive to increase the visibility of the Ford School; to strengthen the school's alumni network; and to assist the school with student recruitment, career services, and alumni relations activities. The board is comprised of 18 elected alumni members who serve three-year terms and two student representatives who serve one-year terms.
Meet your alumni board
Alumni board members strive to increase the visibility of the Ford School; to strengthen the school's alumni network; and to assist the school with student recruitment, career services, and alumni relations activities. The board is comprised of 18 elected alumni members who serve three-year terms and two student representatives who serve one-year terms.
Term Ending December 31, 2019
Amber Arellano, MPP '03
The Education Trust-Midwest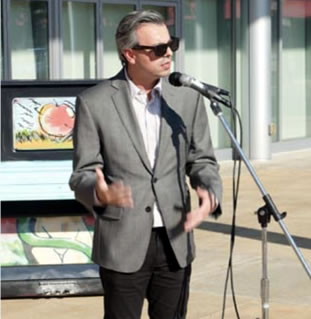 Amber Arellano is founding executive director of The Education Trust-Midwest. Established in 2010, Ed Trust-Midwest (ETM) is widely recognized as a leading voice for non-partisan data, original analysis and research, policy expertise, and its statewide coalition dedicated to making Michigan a top-ten state for all groups of students. Under Arellano's leadership, Ed Trust-Midwest built the coalition and conducted the original policy research that led to the legislative passage and cross-sector development of Michigan's first statewide educator support and evaluation system. ETM also led successful efforts to ensure Michigan implemented college- and career-ready standards, in collaboration with more than 140 organizations across the state, and was the state's first organization to call for quality standards and accountability for Michigan's charter school authorizers.
---
Keith Fudge, Chair, MPP '09
The Urban Institute
Keith Fudge is a policy and research program manager in the policy advisory group at the Urban Institute. He helps manage a partnership between a group of think tanks and foundations to promote evidence-based policymaking in government, especially at the federal level. Previously, he worked in the policy development and research office at the U.S. Department of Housing and Urban Development, where he supported communications and dissemination of HUD's research efforts and was a founding staffer of the White House Council on Strong Cities, Strong Communities.
---
Bridget Hathaway, BA '09
Bodman PLC
Bridget Hathaway is a senior associate at Bodman PLC in Detroit, where she represents clients involved in a wide range of complex commercial litigation matters. Hathaway received her bachelor's degree from the Ford School in 2009 and her juris doctorate from Wayne State University Law School in Detroit in 2012. She serves on the board of the Detroit Bar Association's Barristers section, where she is involved in planning several community outreach programs for students at Detroit Public Schools. Hathaway is also involved in the Michigan chapter of the Huntington's Disease Society of America.
---
Sylvia Herzog, MPP '88
Women's Enterprise Development Center
Sylvia Herzog is program director for the Women's Enterprise Development Center (WEDC), a nonprofit organization that helps entrepreneurs launch and grow their small businesses. At WEDC, Herzog creates programming and provides mentoring and business counseling to small business owners, most of whom are women or minorities. Prior to coming to WEDC, Herzog was chief operating officer of The Charcoal Project, where she ran an incubator for alternative biomass energy companies in East Africa and managed other projects related to sustainable charcoal initiatives. In addition, Herzog has significant experience in banking, raising capital and managing relationships with institutional investors and global Fortune 1000 companies. She has a bachelor's degree in economics, a master's in business administration, and a master's in public policy, all from the University of Michigan.
---
Demar Lewis - MPP '16
C2Launch Enterprise Consulting
Demar F. Lewis IV is the founder & CEO of C2Launch Enterprise Consulting LLC, a firm dedicated to helping social entrepreneurs, small businesses, nonprofit organizations, and aspiring entrepreneurs advance their missions and business endeavors. Through C2Launch, Lewis also provides goal-setting, accountability coaching, and strategy consulting services to people interested in accelerated professional development. Previously, he worked as a project lead in the special projects division of the Detroit Health Department, where he provided program development, operational consulting, and fundraising expertise to mobilize new initiatives. Lewis is a 2017 fellow with the New Leaders Council of Detroit and an associate fellow with the Institute for the Recruitment of Teachers. Prior to starting his MPP, he worked in several roles spanning the private and nonprofit sectors in Cincinnati, OH. While studying at the Ford School, Lewis interned with the Arthur Ashe Institute for Urban Health, worked as a research assistant at the National Center for Institutional Diversity, served on the Ford School's Executive Committee and Diversity, Equity, and Inclusion Strategic Planning Committee, and was involved with numerous student organizations. Academically, Lewis's research interests lie at the nexus of prisoner reentry, inequality, and racial politics. He will begin a PhD program at Yale University in sociology and African-American studies starting in the fall 2017 semester.
---
Ian Swedish, MPP/MBA '10
CCS Fundraising
Ian Swedish is the vice president of analytics and client strategy for CCS Fundraising, where he oversees the firm's analytics and strategy efforts, which provide clients with stand-alone services such as audits and assessments, predictive modeling, and benchmarking. His team also augments the firm's existing consulting and management services including feasibility studies, campaign management, and tailored constituent strategies. In this and other work, Swedish has counseled organizations that generate annual levels of philanthropic revenue ranging from $500,000 to $210 million and has partnered with numerous nonprofit organizations including Rotary International, United Way, Antioch University, Boys and Girls Clubs of America, and the National Constitution Center. Swedish holds master's degrees in public policy and business administration from the University of Michigan and a bachelor's in philosophy from the University of Vermont.
Term Ending December 31, 2018
Lily Clark - MPP '06
National Assessment Governing Board
Lily Clark is the assistant director for policy and research at the National Assessment Governing Board. She serves the Governing Board's chairman and staffs its executive committee – working on a variety of initiatives including budget reviews, strategic planning, legislative tracking, and policy analysis to improve the National Assessment of Educational Progress, also known as the Nation's Report Card. Prior to joining the Governing Board, she worked for eight years in the U.S. Department of Education's Office of Planning, Evaluation, and Policy Development, most recently as a senior policy advisor to the assistant secretary.
---
Christie Peters - MPP '90
U.S. Department of Health and Human Services
Christie Peters is the director of Healthcare Access and Coverage (HAC) in the Office of the Assistant Secretary for Planning and Evaluation at the U.S. Department of Health and Human Services. HAC provides research, data analysis, and policies and mechanisms that integrate the financing and delivery of health care for low-income populations. Relevant topics include health insurance marketplace issues; Medicaid access, coverage, payment, and financing; CHIP implementation and financing; and private health insurance issues affecting coverage both inside and outside the marketplace. Prior to joining HAC, Peters worked at the Medicaid and CHIP Payment and Access Commission (MACPAC); the National Health Policy Forum; and the Centers for Medicare & Medicaid Services (CMS).
---
David Rivait - MPP '84
U.S. Department of Transportation
Retired
Over a 32 year career in federal government, Dave Rivait served in several senior positions before retiring in 2016. From 2010 to 2016, Rivait was the deputy chief financial officer of the Department of Transportation (DOT). As deputy CFO, he was responsible for the department's financial management activities, internal controls, and financial systems. DOT is an $80 billion agency, funding programs such as interstate highways, mass transit projects, and the Federal Aviation Administration. Prior to this assignment, Rivait was the CFO of one of DOT's principal agencies – the Maritime Administration. Before his tenure at DOT, he served for 16 years in various budget positions in the Executive Office of the President. This included assignments at the Office of Management and Budget and the Office of National Drug Control Policy, where he was associate director.
---
Simon Tam - MPP '11
The Clinton Foundation
As senior foreign policy associate at the Clinton Foundation, Simon Tam works with President Clinton's briefing team to brief the president on a wide range of international issues. Collaborating closely with the president's policy advisers, Tam analyzes a variety of foreign policy issues to help scale the foundation's impact and advance its philanthropic goals worldwide. Previously, Tam worked as an account executive with the foundation's Clinton Global Initiative (CGI), where he helped facilitate the creation of international development projects in health, education, and environmental sustainability. His policy areas of expertise include international relations, international development, and U.S. foreign policy.
---
Ingrid Tighe - MPA '13
Michigan Economic Development Corporation
Ingrid Tighe served from 1998 to 2004 with the U.S. Army's 1st Infantry Division in Germany participating in NATO peacekeeping operations in Macedonia and Kosovo and later with the 1st Cavalry Division leading troops in 2004 to 2005 in the combat zone of Baghdad, Iraq. In Iraq, she had the unique opportunity of working alongside Iraqi National Guard soldiers and also training and mentoring Iraq's first class of female Army officers. These groups eventually went on to operate in Iraq's security forces to help bring stability to the country. Currently, Ingrid works for the Michigan Economic Development Corporation as a business development manager, promoting business investment and job growth in Michigan.
---
Rachel White - BA '10
Michigan State University
Rachel White is a doctoral candidate in education policy at Michigan State University. Rachel's research focuses on education finance and governance policy as well as democratic accountability in the policymaking process. In addition to her dissertation research, which examines the relationship between state education governance structures, public responsiveness, and policy outcomes, Rachel has examined the influence of Teach For America on corps members' civic and political engagement, state government policy decisions related to teacher evaluation policy, policy implications related to state fiscal early warning systems for school districts, as well as the ways in which local educators interpret and implement English language learner policy. Rachel also serves as an instructor of an undergraduate course on education policy and reform.
Term Ending December 31, 2017
Taurean Brown - MPP/JD '11
United States Navy
Taurean Brown is an attorney in the Navy's Judge Advocate General (JAG) Corps. She is currently stationed in Washington, DC at the Navy Yard where she works as a judge's clerk in the Navy and Marine Appellate Review Activity Department. Previously, she worked at the Great Lakes station, where she rotated between the command services department, providing ethics advice to commanders; the trial department, working on the prosecution team to prepare cases and draft motions; the legal assistance department, advising sailors on day-to-day legal issues; and the defense department, representing clients in administrative separation boards. Prior to the Navy, Taurean was a Karpatkin Fellow in the Racial Justice Program of ACLU's National Office. In this role, she worked primarily on educational equity and juvenile justice issues. Her areas of expertise include military justice and civil rights law.
---
Menna Demessie - PhD '10
Congressional Black Caucus Foundation, Policy Analysis & Research
Dr. Menna Demessie is vice president of policy analysis and research at the Congressional Black Caucus Foundation where she leads policy initiatives in the areas of education, economic opportunity, and healthcare as it affects the global black community. She also is an adjunct professor at the University of California Washington Center where she teaches courses on American government, race and ethnic politics, and international relations. Since 2000, she has served as the national youth coordinator for the Society of Ethiopians Established in the Diaspora (SEED), a nonprofit aimed at empowering Ethiopian American youth in academic excellence, community service, and professional development.
---
Christopher Dorle, MPP '07

Chris Dorle works on various projects focused on helping Detroit become more sustainable, resilient, and equitable, including projects focused on renewable energy, blue and green infrastructure, and education. He is the former deputy director of city systems at Detroit Future City, which he supported as a fellow through the White House Strong Cities, Strong Communities initiative. Chris has previously worked with Arbor Strategy Group (now GFK Strategic Innovation), a strategy consulting firm, and has several years of experience working in international development and humanitarian assistance with the U.S. Agency for International Development (USAID), which he joined as a Presidential Management Fellow. He has also worked with the U.S. Department of State, AECOM, and the William Davidson Institute. Chris has a master's degree from the Gerald R. Ford School of Public Policy at the University of Michigan and a bachelor's degree in philosophy from the University of Michigan. In his personal life he practices kung fu, Brazilian jiu-jitsu, archery, and bicycle maintenance, and he is an avid runner, swimmer, and cyclist. He is interested in bringing more art into his life.
---
Olushola Samuel, Vice-Chair, BA '10
Beaumont Health
Olushola Samuel is a business manager for obstetrics and gynecology at Beaumont Health. In this role, Samuel helps lead department finances, operations, business development, physician recruitment, and special projects. Samuel oversees the department budget and works closely with lead physicians to expand services in metro Detroit, improve clinic operations, and enhance the patient experience. Prior to this Samuel was a senior management engineer at Henry Ford Health System where he led care transformation initiatives and performance improvement projects for the organization's physician network.
---
Dan Sheppard - MPP '90
New York State Department of Health, Office of Health Systems Management
Dan Sheppard is the New York State Department of Health's deputy commissioner for the Office of Primary Care and Health Systems Management (OPCHSM). The office oversees New York's licensed health care facilities and providers, and works to ensure access to high quality, affordable and equitable health care services for all residents of the state. Sheppard has more than 25 years of progressively responsible leadership experience in administration, public policy, and finance. Prior to joining the Department of Health, he served most recently as a deputy budget director with the New York State Division of the Budget. Sheppard's policy expertise includes the areas of health care, higher education, state and local governance, and capital project finance and management.
---
Lynn Vendinello - MPP '89
United States Environmental Protection Agency
Lynn Vendinello joined the Environmental Protection Agency in 1989 as a Presidential Management Fellow in the Office of Pollution Prevention. She has been with the agency ever since, working on pollution prevention policy, enforcement and compliance matters, performance measurement, and other environmental policy challenges. In the Office of Compliance, she initiated several statistically-valid compliance rate studies that are often referred to in the New Generation Enforcement training classes. In the Office of Pollution Prevention and Toxics, she served as a branch chief for seven years overseeing regulations and outreach for PCBs, asbestos, mercury and formaldehyde. Most recently she has been named a deputy division director in the Chemical Control Division of the office, a division that handles risk management for new and existing chemicals.
Ex-officio
---
Oliver Harfield - BA '17
BA Student Representative
Oliver Harfield will graduate with a bachelor's degree from the Ford School's undergraduate public policy program in the spring of 2017. Upon graduation, he will join Cornerstone Research, an economic consulting firm in Washington, DC. Harfield currently is a peer advisor in the Ford School's advising office and has previously worked for Deloitte's Policy Team and for Arbor Brewing Company in Bangalore. While at the Ford school, his academic interests have focused on public and private sector approaches to sustainability challenges in developing nations.
---
Farah Mandich - MPP '17
MPP Student Representative
Farah Mandich is a 2017 Presidential Management Fellow finalist and second year master's of public policy student focusing on sustainability and economics. Last summer, she completed an internship partnership with the European Bank for Reconstruction and Development. For the U.S. executive director's office, Mandich analyzed bank project proposals for financial viability and alignment with bank and U.S. policy objectives. Before coming to the Ford School, Mandich worked as a researcher and content expert at McKinsey & Company, where she focused on renewables and distributed electricity generation. She holds a bachelor's in economics from Texas Christian University and, as an undergraduate student, completed an internship in the White House National Economic Council, working on energy and agriculture policy research.
Committees
Alumni Engagement/Visibility
Taurean Brown (co-chair)
Chris Dorle (co-chair)
Oliver Harfield
Sylvia Herzog
Kelsey Kennedy
Farah Mandich
Ingrid Tighe
Lynn Vendinello
Fundraising
Dan Sheppard (co-chair)
Ian Swedish (co-chair)
Demar Lewis
Amber Arellano
Nominations/Elections
Olushola Samuel (chair)
Keith Fudge
Rachel White
Student engagement
Simon Tam (chair)
Lily Clark
Keith Fudge
Bridget Hathaway
Ian Swedish
Menna Demessie
Staebler Award
Lily Clark
Pete Fritz
Sylvia Herzog
Olushola Samuel
Dan Sheppard
Ian Swedish