Linking brilliant minds
State Department Diplomat in Residence
The University of Michigan is one of a very small group of U.S. colleges selected by the State Department to host a Diplomat in Residence (DIR)—a career Foreign Service Officer who spends one to two years on site, here at the Ford School. These career diplomats work individually with students, connecting them with professional opportunities available in the foreign service. 
Michelle Jones is the current Diplomat in Residence for the North Central Region. She comes to the Ford School following her most recent post at U.S. Embassy in Kabul, Afghanistan.
Harry A. and Margaret D. Towsley Foundation Policymaker in Residence Program
The Harry A. and Margaret D. Towsley Foundation Policymaker in Residence Program was established at the Ford School in 2002 to bring individuals with significant national and/or international policymaking experience to campus to interact with students and faculty. The Towsley PMR program enhances our curriculum and strengthens our ties to the policy community.
Qualifications
Individuals selected to serve as Towsley PMRs are current or former senior public policy leaders in government at the federal, state or local level; in corporations, trade associations or labor unions; or in non-profit or NGO-type organizations. Towsley PMRs have achieved notable success in policy leadership and are likely to continue to be active and contributing members of the policy community.
Activities
The length of stay for Towsley PMRs is variable and negotiated on an individual basis. PMRs come to the Ford School for at least six weeks and up to a full academic year.
All Policymakers in Residence engage in these three core activities:
Teach a graduate-level course ranging in length from six weeks to a full semester
Deliver a public lecture at the Ford School on a topic in their field of specialization
Participate in the full range of community activities, including engaging with our students, interested faculty members, members of the visiting committee, donors, alumni association, employers and other supporters of the Ford School.
Policymakers in Residence who stay for longer might also:
Present guest lectures in Ford School classes or in classes of joint degree programs as appropriate.
Provide skills workshops to Ford School students and the broader U-M community.
Conduct research, write a book or a paper, or produce some other optional work product
Advise and mentor students on projects, papers and career planning.
Support and facilitate faculty research; develop relationships, provide advice, participate in the research agenda.
Advise the dean on strategic issues; provide practitioner's perspective to the faculty on curriculum issues.
Past Towsley Foundation Policymakers in Residence
2016
Gretchen Whitmer, former Michigan Senate Minority Leader
"The Detroit Grand Bargain"
Ambassador Richard Boucher, former Deputy Secretary-General of the Organization for Economic Co-operation and Development (OECD)
2015
Dr. Ruth C. Browne (MPP/MPH '83), CEO of the Arthur Ashe Institute for Urban Health
"Credible messengers, critical trust: Community health empowerment"
2014
Margo Picken, former director of the Office of the High Commissioner for Human Rights in Cambodia at the United Nations
"Khmer Rouge Trials: Serving to end or compound Cambodia's culture of impunity?"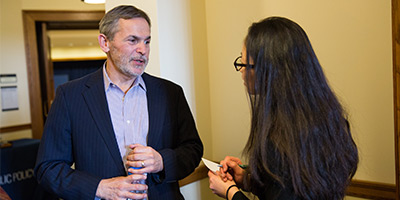 Ambassador Richard Boucher, former Deputy Secretary-General of the Organization for Economic Co-operation and Development (OECD)
"Networked diplomacy: Exercising influence in a modern world"
2009
Douglas A. Brook, former Acting Under Secretary of Defense (Comptroller)/Chief Financial Officer
"Budgeting for National Security: How much should we epend?"
2008
Alberto Trejos, Professor of Economics and former Minister of Foreign Trade for Costa Rica
"Costa Rica and CAFTA: Policy, politics, and strategy of a new era in Costa Rican trade"
Martin Palouš, Permanent Representative of the Czech Republic to the United Nations
"The Czech Republic in the beginning of the 21st century"
2007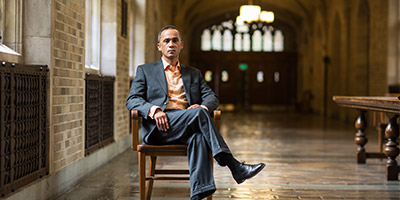 Yazier Henry, Director, Direct Action Centre for Peace and Memory, Cape Town, South Africa
"The cost of forgiveness: After South Africa's Truth and Reconciliation Commission"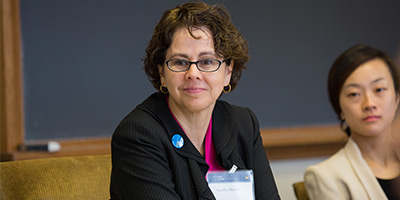 Cecilia Muñoz, senior vice president for the Office of Research, Advocacy and Legislation at the National Council of La Raza
"Latinos, immigration policy, and the national interest"
2005
Charles M. Vest, the former President of M.I.T. and former Provost of the University of Michigan
"Improving the U.S. intelligence community—Lessons from Iraq, Libya, and elsewhere"
2004
Barbara Freese, Environmental Protection Division of the Minnesota Attorney General's Office
"Global Warming, Fossil Fuels, and the Audacity of Imagining We Can Shape Our Energy Future"
2003
Namanga Ngongi, U.N. Secretary General's Special Representative to the Democratic Republic of Congo
"The United Nations Role in Conflict Management: Lessons from the Democratic Republic of Congo"
2002
Catherine Bertini, Executive Director of the World Food Program
"Why Wait for Another Afghanistan? The Case for Increasing U.S. Aid"
Tags:
Towsley
,
Richard Boucher
,
State Department
,
Diplomat in Residence
,
Foreign Service Officer
,
Michelle Jones
,
Ruth Browne
,
Margo Picken
,
Dougla Brook
,
Alberto Trejos
,
Martin Palous
,
Yazier Henry
,
Cecilia Munoz
,
Charles Vest
,
Barbara Freese
,
Namanga Ngongi
,
Catherine Bertini
,
United Nations
,
United Nations High Commission for Human Rights
,
UNHCR
,
Gretchen Whitmer
,
University of Michigan