Ford School gatherings
Each year, the Ford School and its alumni host events around the country (and even world) to gather, network, and socialize. Whether hearing about a Ford School faculty member's latest research, connecting with a current student to share career advice, or grabbing dinner and drinks with fellow alums, Ford School gatherings are a great way to stay connected.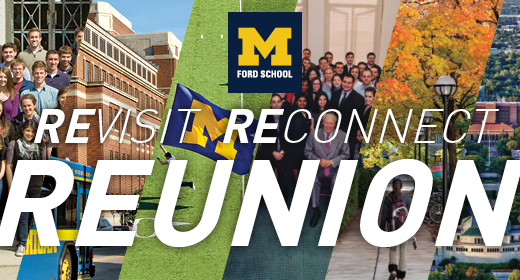 Ford School Reunion
October 4-5, 2019
It's been 10 years since our first BA students graduated. It's been 20 years since we were named for President Gerald R. Ford. And it's been 50 years since our first Master of Public Policy students entered the Institute of Public Policy Studies.
We'll be celebrating this fall!
The Ford School Reunion will take place on Friday, October 4 and Saturday, October 5, 2019.
We're planning engaging policy panels, a showcase of student work, and of course, football! Get your friends together and make plans to reunite in Ann Arbor this fall.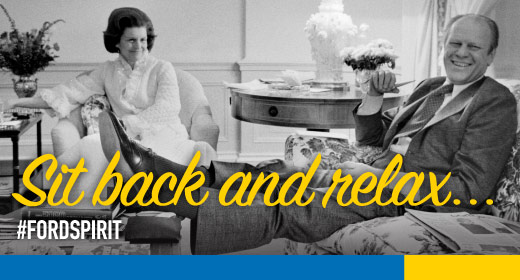 9th Annual Worldwide Ford School Spirit Day 
Thursday, July 11, 2019
Various locations and times around the world
 
Sit back, relax, and catch-up with your fellow alums and Ford School friends! 
Join us at the ninth annual Worldwide Ford School Spirit Day on Thursday, July 11th. 
It's a great opportunity to socialize, network, and share your Ford School spirit, all in the name of President Ford. 
Washington, DC Alumni Student Career Networking Reception
Thursday, February 7, 2019
6:00-8:30 p.m.
The Rockefeller Peterson Room
1777 F Street, N.W.
Washington, DC 20006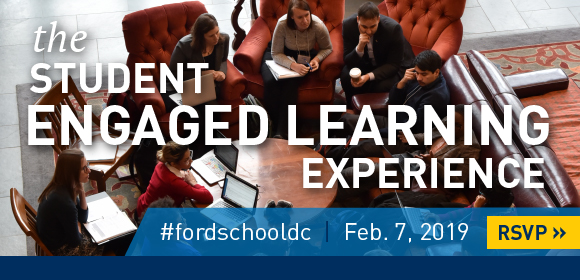 Alumni and Ford School friends are invited to the annual Washington, DC Alumni-Student Career Networking Reception.
This year's event will feature a panel discussion, led by Elisabeth Gerber, Ford School associate dean for research and policy engagement, on the student engaged learning experience. Liz will be joined by past Strategic Public Policy Consulting course clients and former students (now DC-based alums) discussing the value of engaged learning from each of their perspectives. Liz will also be discussing the expansion of this work through the Program in Practical Policy Engagement.
Following the discussion, enjoy the reception where you'll have the opportunity to catch up with fellow alumni, socialize, and network with current MPP students who will be in DC for the Ford School's annual career exploration trip, and hear about ways you can be involved in engaged learning.
Annual alumni events
Worldwide Ford School Spirit Day
Since its inception in 2011, Worldwide Ford School Spirit Day has brought alumni, students, faculty, staff, and friends together to celebrate their Ford School spirit the Thursday before President Ford's birthday (July 14).
Ford School community members organize these events, then come together to catch up with each other, find out what's happening at the school, and toast President Ford on his birthday. Events have been held as far as Japan and as close as Ann Arbor (Dominick's and Pizza House to be exact). Browse the photos from Worldwide Ford School Spirit Day activities in 2018, 2017, 2016, 2015, 2014, 2013, and 2012. 
Policy Event and Networking Reception in DC
Each winter, the Ford School travels with its MPP and MPA students to Washington, DC, so students can attend a series of alumni and employer panels to learn more about policy-relevant careers in our nation's capital. As part of the trip, a student-alumni networking reception is held in the evening for alumni in the DC area to hear from a Ford School faculty member or other invited guest and network with current students and each other.
The 2018 event featured a conversation with Alumni Board chair, Keith Fudge, MPP '09 and Ford School Dean Michael S. Barr. Dean Barr shared his priorities and vision for the school. 
Featured speakers at past receptions have included Rebecca Blank, former acting deputy secretary of the Department of Commerce; Gary Burtless, senior fellow at The Brookings Institution; Susan M. Dynarski, associate professor of public policy and education at the Ford School; Ted Truman, senior fellow at the Peterson Institute; Marina v.N. Whitman, professor of public policy and business at the Ford School; Justin Wolfers, associate professor of public policy and a New York Times-affiliated economist; Robert Axelrod, 2014 National Medal of Science Recipient, Barry Rabe, J.Ira and Nicki Harris Family Professor of Public Policy, and Susan Collins, former Dean of the Ford School and  Edward M Gramlich Collegiate Professor of Public Policy, and Professor of Economics, College of Literature, Science, and the Arts.
To be involved in the DC trip as a panelist or table host, contact Elisabeth Johnston at eajohnst@umich.edu.
Regional activities
Baseball games, lectures, and receptions are just a few of the other events the Ford School as held in cities such as Chicago, New York, and Washington, DC. Be sure we have your current contact information so we can send you invitations to regional events like our Nationals Baseball outing, our Greater Chicagoland alumni and student reception, and our evening with Henry Kissinger and Paul O'Neill in New York City. 
Keep current on Ford School events by checking the events calendar and make plans to attend a Policy Talks @ the Ford School event, lecture, or symposium; all alumni are welcome. Most of our public events are live-streamed and make use of Twitter to broaden the in-room conversation well beyond Ann Arbor.
The Centennial Reunion
The Ford School celebrated its Centennial Reunion, one hundred years in the making, October 31-November 1, 2014 with a commemorative Policy Talks lecture with Steven Levitt, Open House, Deans' Panel, and tailgate and football game at the Big House. Alumni, faculty, staff, and Ford School friends enjoyed two memorable days, which served as the culmination of the Ford School's centennial year celebration. Click here for a recap of the weekend's festivities.