Academic support and resources
Academic planning and support
BA, Masters, and PhD students can connect with staff in the Office of Student and Academic Services for support and academic planning. The advisors are equipped to help students navigate resources at the Ford School and at the larger University.
Writing Center
The Ford School Writing Center offers individual tutorials and policy writing modules to all Ford School students.
Undergraduate and graduate peer tutoring
Students in the BA and MPP/MPA programs can seek academic support from peer tutors for several of the quantitative-based core courses including undergraduate–level Microeconomics and master's–level Microeconomics, Statistics, Calculus, and Program Evaluation. Students request a referral from their professor and meet with a graduate–level tutor to receive additional support. Grou–-format tutoring is free of charge for Ford School students.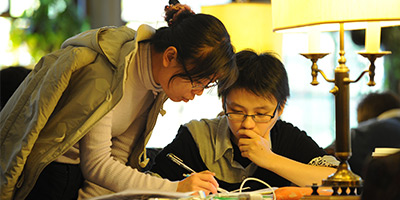 GSI office hours
All core courses are supported by one to two Graduate Student Instructors (GSIs). GSIs lead discussion sections as well as provide office hours to Ford School students to go over material with students outside of class.
Faculty mentoring
BA and master's students are encouraged to reach out to faculty for academic guidance. Doctoral students work closely with faculty as research assistants in various capacities throughout their degree.  and participate in Summer Research Internships, getting first-hand experience working on a research project under the close supervision of a faculty member. 
The Ford School also offers all Ford students the opportunity to take a faculty member to lunch. This opportunity is paid for by the school and is a chance for students to get to know their professors better and receive academic support in an informal setting.
PhD mentor program
All incoming doctoral students are assigned a current student mentor (senior) to assist with the transition back to school, course registration and pathway information, and general guidance to navigate University resources. Students are encouraged to meet with their mentor at least once a semester and are provided with the necessary support to do so.
National Center for Faculty Development and Diversity
Through the University of Michigan's institutional membership, all graduate students, postdoctoral scholars, and faculty have access to the National Center for Faculty Development & Diversity (NCFDD), which provides professional development, training, and mentoring. NCFDD resources are broadly applicable across academic disciplines and include a range of topics such as time management, overcoming academic perfectionism, developing a daily writing plan, writing grant proposals, and more. These resources offer concrete guidance that could increase your productivity and your sense of well-being.
NCFDD member resources include:
How to Activate Your UM Sponsored Membership:
Select the " my Membership"

Complete the registration form by following all instructions. Be sure to provide your UM email address.

Once you have submitted your registration information and NCFDD has approved your connection to Michigan, you should receive a welcome email.
For More Information: http://www.facultydiversity.org
Current student intranet
Current students have access to additional academic resources such as curriculum sheets and forms as well as links to the student handbooks for all academic programs. Students also have the option to make appointments with Student & Academic Services within the intranet.
University of Michigan resources
MLibrary and research support
Information and Technology Services (ITS)
Center for Research on Learning and Teaching
English Language Institute
Services for Students with Disabilities (SSD)