Strategic Public Policy Consulting
Strategic Public Policy Consulting
Strategic Public Policy Consulting
This course allows students from across campus to complete a commissioned policy research project for a public-sector client. Under the direction of a faculty advisor, students have tackled dozens of significant public policy problems for organizations like Amnesty International, the U.S. Government Accountability Office, and government officials. 
Overview
The Ford School's Strategic Public Policy Consulting course is a semester-long Master's level course that engages students in a supervised consulting project with a real-world client. Teams of 3-6 students work with a faculty coordinator and client representative to: develop a project work plan; collect relevant materials and information; conduct research and analysis; prepare a written report; and present findings and recommendations to the client. Students are expected to produce professional-quality work at minimal cost to the client. In return, clients are asked to help provide students with a valuable, engaging educational and professional experience.
For more information
To discuss the process and outcomes or to submit a proposal, interested organizations can contact Elisabeth Gerber, the Jack L. Walker Professor of Public Policy, at ergerber@umich.edu of 734-647-4004.
(L-R) Christopher Falcone (MPP '14), Jessica Teng (MPP '14), Erin Sullivan (MPP '14), Matthew Papadapoluos (MPP/MA '13) testifying before Michigan's House Commerce Committee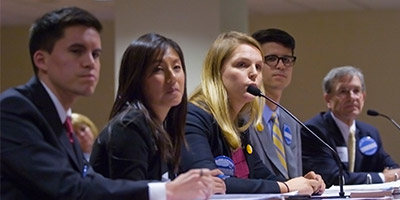 Recent Strategic Consulting projects
Guidelines, next steps for organizations interested in participating