The Applied Policy Seminar (APS)
The Applied Policy Seminar (APS)
Applied Policy Seminar
This graduate-level course allows Ford School students to complete a commissioned policy research project for a public-sector client. Under the direction of a faculty advisor, students have tackled dozens of significant public policy problems for organizations like Amnesty International, the U.S. Government Accountability Office, and government officials. 
(L-R) Christopher Falcone (MPP '14), Jessica Teng (MPP '14), Erin Sullivan (MPP '14), Matthew Papadapoluos (MPP/MA '13) testifying before Michigan's House Commerce Committee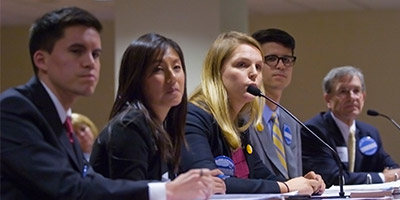 Overview
The Ford School's Applied Policy Seminar (PubPol 578) is a semester-long master's level elective that engages students in a supervised consulting project with a real-world client. Teams of 3-6 students work with a faculty coordinator and client representative to develop a project work plan, collect relevant materials and information, conduct research and analysis, prepare a written report, and present findings and recommendations to the client.
Students produce professional-quality work at minimal cost to their clients. In return, clients provide students with real-world experience tackling a meaningful public policy challenge. 
For more information
To discuss the process and outcomes or for more information about how to submit a proposal, interested clients can contact Jennifer Niggemeier, director of Graduate Career Services and Alumni Relations, at jennig@umich.edu.
Guidelines, next steps for organizations interested in participating