The Ford School master's programs
We are America's first graduate public service training program, and among its most prominent—respected for the excellence of our faculty, our grounding in social science research and quantitative analysis, the real-world policy issues woven throughout our curriculum, and the careers of leadership and impact forged by our alumni.
Situated at one of America's great public universities but with approximately 110 master's students matriculated each year, the Ford School is large enough to satisfy diverse intellectual and political interests, but small enough to offer a warm, collegial educational community.
From here to there, and points between
Ford School alumni are managing multi-million dollar support programs for farmers in Afghanistan. They're crafting market regulations at the Federal Reserve Bank. They're directing successful gubernatorial political campaigns. They're improving health policy in East Africa. And they're leading national land and water conservation efforts for the U.S. Department of Agriculture.
So, whether your policy interests lie in Detroit—described by some as one of the great urban renewal testing grounds in the world—in Beijing, or some point between, at the Ford School you'll gain the real–world policy experience and the professional skills needed to make an immediate impact.
Rigor and relevance
Our master's level curriculum trains students with a broad range of interests for a wide set of jobs, providing a toolbox of research, analytical, and management skills that are highly transferable across sectors and issue areas.
Prominent and accessible
Poverty and economic development. Health and human security. Energy and the environment. Alongside their critical work as teachers and mentors, Ford School faculty members are nationally and internationally recognized experts in these and other vitally important policy areas and are deeply committed to strengthening the connections between rigorous academic research, real-world policy issues, and the student experience.
Leaders grounded in service
We seek to equip our graduates with the analytical, communication and leadership skills needed to be the "leaders and best" in their careers: to lead institutions, to lead communities, to lead teams, to lead self.
                                      
The Ford School defines leadership as the behavioral process of having a positive impact on individuals, organizations, and communities. Core and elective courses focus on key issues in public/nonprofit management and effective leadership. Numerous co-curricular leadership development opportunities are also available, including leadership assessments, workshops, panels, access to top policymakers visiting for our public events, executive coaching, and serving in leadership roles in student organizations, schoolwide committees, and public service initiatives.
An applied approach
The Ford School emphasizes an applied approach to policy education, providing students with a wide range of opportunities to use what they've learned in the classroom through hands-on, practical policy experiences.
Our dedicated Graduate Career Services team understands the Ford School difference, helping students market their skills and land their dream jobs. They're joined by our faculty and our engaged alumni base, all collaborating to prepare, support, and launch students toward successful, high-impact careers.
The required internship between the first and second year of study allows our students to explore their policy interests. Many of our students gain practical international experience through their required summer internship. Around 25 percent intern outside of the U.S. each year in organizations such as the International Organization for Migration, U.S. State Department, U.S. Agency for International Development, the World Bank, and Innovations for Poverty Action; another 20 percent intern with a U.S.-based organization that deals with international issues.
Go Blue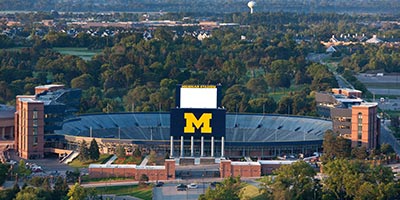 A university ranked among the best in the world. A city ranked among America's best college towns. A diverse, dynamic, and friendly community to call your own. 1,400 student clubs and organizations, bringing vitality and energy to campus. And the University of Michigan's 547,000 living alumni, transforming communities across the globe.
The University of Michigan is home to nineteen graduate schools and colleges; 250 degree programs; 6,700 faculty members; and dozens of world-class academic departments. Remarkably low barriers between schools make it easy for students to register for courses in any department, accessing the full range of the University of Michigan's intellectual, cultural, and social resources.
Well-connected and engaged
As a graduate of the Ford School—the nation's first public administration graduate program and one of its most prominent—you'll join a powerful and growing network of alumni engaged in public service and leadership positions around the world.
Ford School alumni are deeply involved with the school as volunteers, helping current students define their career interests, build their professional networks, and prepare for public service careers.
Knowing that Ford School alumni are one of the best resources available to students for real world career information, leads on internships and jobs, and mentoring advice, our well-resourced Office of Graduate Career Services and Alumni Relations coordinates dozens of professional development and student-alumni networking activities each year.