About our required summer internship
The Ford School's MPP program requires a ten-week public policy internship completed between the first and second years of study
Our required summer internship allows students to apply their knowledge to significant problems in the public, private, or non-profit sectors while developing and enhancing skills in their policy area of interest.
Internship Basics
MPP students complete the required internship--10 consecutive weeks of full-time (40 hours/week) work--during the summer between the first and second year of study. The internship helps students clarify their career direction, identify relevant second-year electives, and strengthen their professional experience and networks. 
The Ford School has developed a substantial network of agencies and organizations that have hosted interns and employed graduates. We have established internship partnerships with the Detroit Mayor's Office, the Michigan Governor's Office, Human Rights First, CARE, and many other local, state, and national organizations.
How do our students secure internships?
Graduate Career Services staff work individually with students to help them identify and secure internships appropriate to their career needs and goals.
In 2019:
34 percent of students found funded internship partnerships with targeted high visibility organizations (such as City of New York, the United Nations Refugee Agency, the World Bank, the Asia Foundation, etc.)
43 percent of students found internships through ongoing connections with employers who recruit Ford School students (such as the Government Accountability Office, the Chicago Mayoral Fellowship, Education Pioneers, Deloitte, etc.)
23 percent of students secured individually-developed internships. The Office of Graduate Career Services provides guidance and support to these students as they develop or identify new opportunities specific to their geographic, sector, and policy interests.
Internship reports
After returning from an internship, each student submits a written report evaluating and reflecting upon their summer work experience. These reports are kept on file in the Office of Graduate Career Services, and they are available to first-year students who are exploring internship options. 
Internship funding
The practical experience and professional networks gained from the summer internship make the decision to accept a particular internship a very significant one for Ford School students. 
At times, a student's best internship option--the one that will help further his or her career goals--is an unpaid or low-paid internship. The Ford School has funding available to help students defray some of the basic costs of pursuing these opportunities. These funds are made available through the contributions of Ford School alumni and friends who understand the importance of accepting an internship that advances one's career goals. Students may request up to $3,000 from the Ford School unpaid internship fund to assist in defraying some of the costs incurred in accepting a worthwhile internship opportunity.
In addition to Ford School funding, Graduate Career Services offers programs early in the winter semester to assist students in both identifying additional sources of unpaid internship funding and writing competitive proposals for such funding. For Summer 2019,
38 percent of students receive internship funding from Ford School Internship Partnerships. With generous support provided by donors, Ford School funded internship partnerships are funded at $7,500 each. 
24 percent of students accept unpaid or low paid internships, tapping into funding available through Ford School and other U-M sources.
35 percent of students accept employer-paid internships.
International internships
Many of our students gain practical international experience through their required summer internship. Around 20 percent intern outside of the U.S. each year in organizations such as the World Trade Organization, the International Civil Aviation Organization, the World Bank, The Asia Foundation, and Innovations for Poverty Action; another 20 percent intern with a U.S.-based organization that deals with international issues.
Internship statistics
Internships, Ford School MPP students, summer 2019
By sector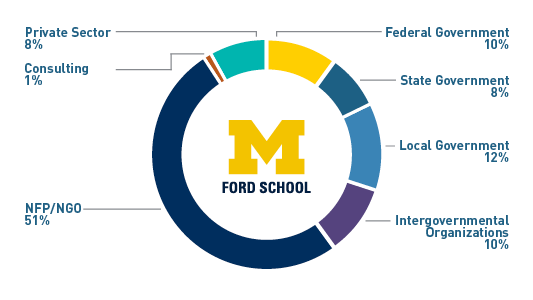 By Location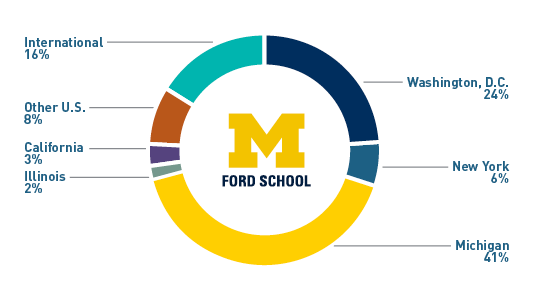 2018 internship statistics
2017 internship statistics
2016 internship statistics
2015 internship statistics
2014 internship statistics
2013 internship statistics
2012 internship statistics
2011 internship statistics
2010 internship statistics