Summer leadership coaching
80%
of MPP students elected to work with a leadership coach during summer 2022 internships
International internships
40%
These include international organizations or U.S.-based organizations that deal with international issues.
Support to secure internships
We work individually with students to support their internship search and help them secure internships appropriate to their career needs and goals, identify and secure funding for unpaid or low-paid internships, and provide leadership coaching throughout their experience. We leverage our substantial network of agencies and organizations that have hosted interns and employed graduates, including alumni organizations and established partnerships with high-profile employers (such as the City of New York, the United Nations Refugee Agency, CARE, Government Accountability Office, the Chicago Mayoral Fellowship, Education Pioneers, Deloitte, and the Asia Foundation).
In 2020, the Ford School partnered with all students navigating the transition to remote internships and connected students to newly developed remote applied learning opportunities.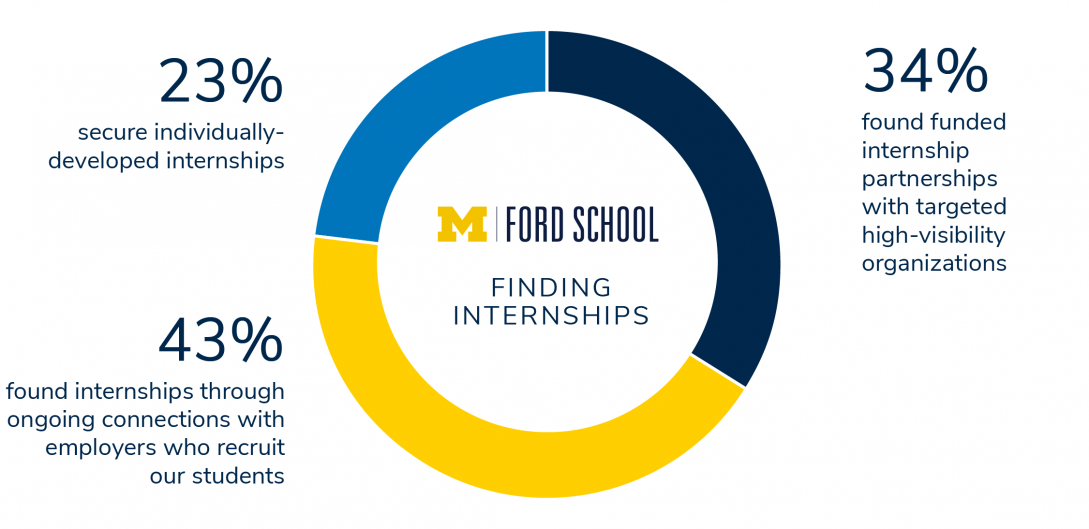 Internship funding
The practical experience and professional networks gained from the summer internship make the decision to accept a particular internship a very significant one for Ford School students.
At times, a student's best internship option—the one that will help further their career goals—is an unpaid or low-paid internship. The Ford School has funding available to help students defray the costs of these opportunities. Through the generous contributions of Ford School alumni and friends, students are free to pursue the right path for them. 
Internship reflection papers
After returning from an internship, each student submits a written report evaluating and reflecting upon their summer work experience. These reflections are available as resources to first-year students who are exploring internship options. Below are some internship highlights.
MPP student Max Gigle recounts his internship experience at the Rhode Island Office of Innovation, where he developed an infrastructure for the state government's websites.
MPP student Paola Guerra Guevara's internship experience at Vision Democratica, "Democratic Vision,"a Venezuelan NGO in Washington, DC.
Statistics