The multidisciplinary approach of the Center for Racial Justice will allow students to complement their curriculum with research- and action-based opportunities to understand and address racial inequity. The center will give us the tools, resources, and networks needed to create intersectional and inclusive policy solutions. 

Sharanya Pai (MPP '21)
Student Advisory Board
The Center for Racial Justice's Student Advisory Board is a collective of undergraduate and graduate students who will work together to do blue sky dreaming and executing around racial justice at the Ford School. The advisory board will be provided with time, space, and financial resources to create impactful programming for the Ford School student community. Additionally, the advisory board will partner with our student engagement coordinator, Sharanya Pai, to plan the Race and Public Policy Student Conference for fall 2022. We are eager to assemble a group of students who are passionate, curious, and motivated to center racial justice in their studies, research, and advocacy at the Ford School.
Reading Circle
A faculty and graduate reading group that will be held in winter 2022 in which participants collectively delve deeply into concepts, theories, and topics relevant to racial justice. 
Apply to participate in a reading circle! In reviewing applications, we aim to curate reading circles with diverse disciplinary perspectives and research interests. Selected applicants will receive a $250 stipend (subject to taxation) at the end of the semester for their participation.
We have two reading circles this semester! Please read the descriptions below:
Reading Circle #1 on Racism, Health & Genetic Discrimination w/ Dr. Lynette Hammond Gerido (Public Health)
*Virtual, Tuesdays, 5-7pm on February 22, March 8, and March 22 
In the United States, public health genomics prioritize the effective and ethical translation ofgenomic science into population health benefits. Current attention to health disparities hasdeveloped in response to a long history of de-prioritization and oversimplification of the healthneeds in many Black communities. However, with the rapid development of cost-effective, next-generation genome sequencing born of the Human Genome Project, we are flush with technologyand data supporting the discovery of therapeutic targets and potential clinical implementation ofprecision medicine. Institutions, industry, and policy-makers are paying attention to the healthstatus of and the outcomes for Black Americans, and calls for greater representation of Blackpeople in research, technology, healthcare, and government grows. This reading circle explores themicro- to macro- level hope of genomics and its respective policy implications to revolutionizepublic health and personalize healthcare while centering Black experiences in the United States.
Reading Circle #2 on Policing w/ Dr. Nick Camp (Organizational Studies) and Dr. Jeffrey Morenoff (Ford School & Sociology)
*In-person, Tuesdays, 4-6pm on March 1, March 22, and April 5
While inequities in the American criminal justice system have persisted for centuries, high-profile police killings have brought renewed public attention to this racialized system of policing. What policies, practices, and psychological processes contribute to such racial disparities? How can we understand the costs of policing at the individual and community level? And should policing be reformed, re-imagined, or abolished altogether? This reading circle brings together research -and researchers- from across the social sciences to consider these and other topics.
Please email Dr. Dominique Adams-Santos, Associate Director of the Center for Racial Justice, if you have any questions.
Racial Justice Student Initiative Fund
The Racial Justice Student Initiative Fund provides financial support for student-led racial justice initiatives that advance a more critical understanding of the social and political conditions that impact Black, Native and Indigenous, Latinx, and Asian American and Pacific Islander peoples. We are excited to support a range of advocacy, policy engagement, and research projects. Please use this link to apply to the fund. Applications will be reviewed on a rolling basis.
Undergraduate Lunch and Learn
The year-long Undergraduate Lunch and Learn series provides undergraduate students with unique opportunities to meet and learn from scholars, activists, organizers, and artists, including the center's visiting fellows and various speakers, whose work centers on racial justice. In conjunction with the student engagement coordinator, the Student Advisory Board will be instrumental in planning and inviting speakers for the series. The Undergraduate Lunch and Learn series will begin in fall 2021.
Policy Research Fund
The Policy Research Fund provides research funding to advanced master's and PhD students for projects that critically examine an aspect of public policy through the lens of race and interrelated axes of power and difference. Toward the end of winter term, graduate students will be invited to submit an application for summer research funding.
Have any questions?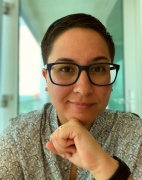 Managing Director, Center for Racial Justice; Senior DEI Strategist, Ford School; Adjunct Lecturer