Celebrating the Class of 2022
Congratulations, graduates!
The Ford School is so proud of the Classes of 2022—a resilient, talented group who earned their University of Michigan degrees in a time of historic challenges. This year's graduates supported each other along the way, and they did more than just persevere: they continued to lead and create positive change in their communities and their school.
We're excited to celebrate the Classes of 2022 through our in-person Commencement and reception, as well as virtual tributes, including opportunities for families and friends to come together, meet our faculty and staff, and congratulate their graduates.
Platform party
The platform party for our April 30 commencement includes award-winning author and filmmaker Julian Brave NoiseCat, elected student speakers Gerald Sill and Crystal Olalde-Garcia, and Ford School and U-M leaders.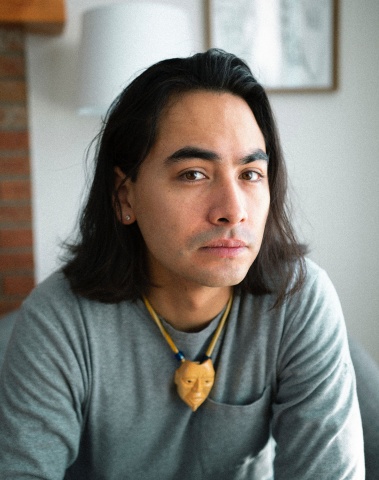 Julian Brave NoiseCat
Charge to the classes of 2022
Julian Brave NoiseCat, a member of the Canim Lake Band Tsq'escen and a descendant of the Lil'Wat Nation of Mount Currie, is a writer and filmmaker currently based in the Pacific Northwest. A fellow of New America and the Type Media Center, his first book, We Survived the Night, will be published by Alfred A. Knopf. He is concurrently co-directing his first documentary, which follows the search for unmarked graves at the residential school his family was sent to in Williams Lake, British Columbia. NoiseCat's work has been recognized with numerous awards including the 2022 American Mosaic Journalism Prize, one of the largest cash prizes in journalism, which honors "excellence in long-form, narrative or deep reporting on stories about underrepresented and/or misrepresented groups in the present American landscape." In 2021, he was named to the TIME100 Next list of emerging leaders alongside the starting point guard of his fantasy basketball team, Luka Doncic.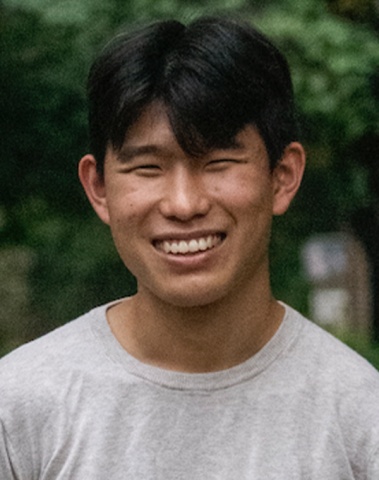 Gerald Sill (BA '22)
Elected undergraduate speaker
Gerald Sill is a member of the 2022 BA cohort with a focus area in social policy and inequality, and a minor in urban studies. During his time at Michigan, Gerald has been active on campus serving as the managing podcast editor at The Michigan Daily, the internal professional development chair of the pre-law fraternity Beta Alpha Rho, and treasurer of Students of Color in Public Policy. He is a research assistant in the Organizational Studies department working on a project studying minority students' experiences at elite colleges. Gerald has interned with Media Matters for America, the Washtenaw County Public Defender's Office, and the General Services Administration. Following graduation, he will be moving to Seattle to join Mercer as a career consulting analyst.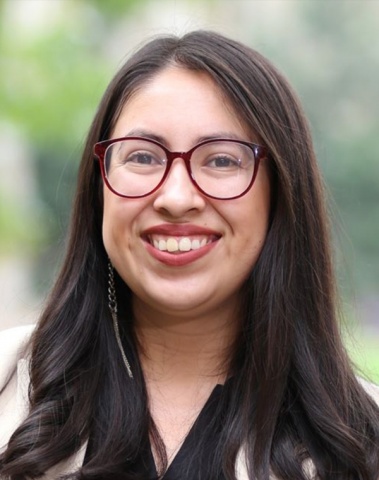 Crystal Olalde-Garcia (MPP '22)
Elected graduate speaker
Crystal Olalde-Garcia was born and raised in Watsonville, California, a predominately Latinx agriculture community on the central coast. She obtained her bachelor's degree in political science from Rice University in 2015. Crystal worked for 5 years in education as a teacher, operations coordinator, and recruiter across 3 different states. As a first-generation student, she experienced first-hand the power of education and pursued an MPP to learn about ways to address inequities. At Ford, Crystal focused on social policy, served as chair of the Student Affairs Committee, and was a Rackham Merit Award Fellow. After graduation, she will be moving to Texas with her soon-to-be husband and is excited to continue her career.

Platform party, continued
Michael S. Barr, Joan and Sanford Weill Dean, Frank Murphy Collegiate Professor of Public Policy, and Roy F. and Jean Humphrey Proffitt Professor of Law; Paul W. Brown, regent of the University of Michigan; Susan M. Collins, provost and executive vice president of the University of Michigan; H. Luke Shaefer, associate dean for research and policy engagement, Hermann and Amalie Kohn Professor of Social Justice and Social Policy, professor of social work, and director of Poverty Solutions; Celeste Watkins-Hayes, associate dean for academic affairs, Jean E. Fairfax Collegiate Professor of Public Policy, professor of sociology, and founding director of the Center for Racial Justice; Kathryn Dominguez, professor of public policy and economics and director of the Joint PhD Program; Kevin Stange, associate professor of public policy and member of the MPP/MPA Program Committee; Charlotte Cavaillé, assistant professor and member of the BA Program Committee; Betsey Stevenson, professor of public policy and economics; John D. Ciorciari, associate professor of public policy and director of International Policy Center and Weiser Diplomacy Center; David Thacher, associate professor of public policy and urban planning; Tuhin Chakraborty (BA '22), undergraduate student flag-bearer; Yasin Shafi (MPP '22), graduate student flag-bearer
Join us at the Ford School graduation reception following the ceremony
Graduates, family, and friends are warmly invited to gather for light refreshments at Weill Hall from 6:30 - 7:30 p.m. following the Ford School Commencement.
What's happening on Elbel Field? Take a look behind-the-scenes at our setup for Commencement...
Watch the video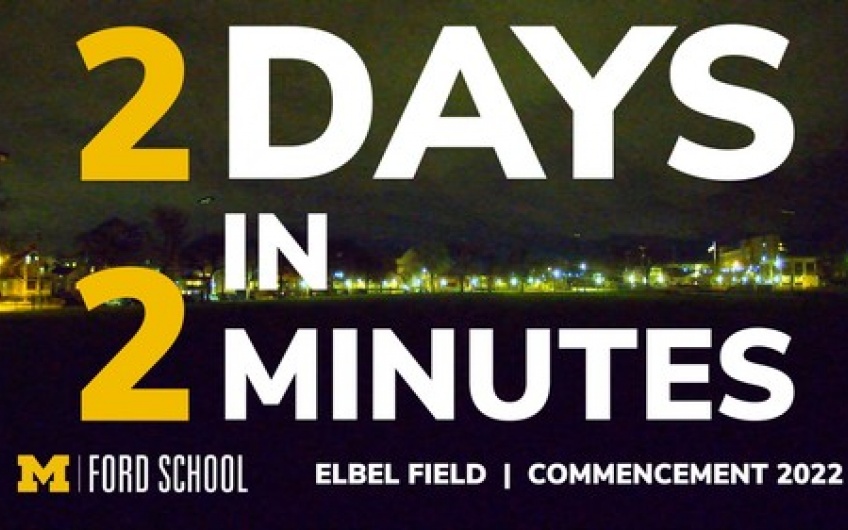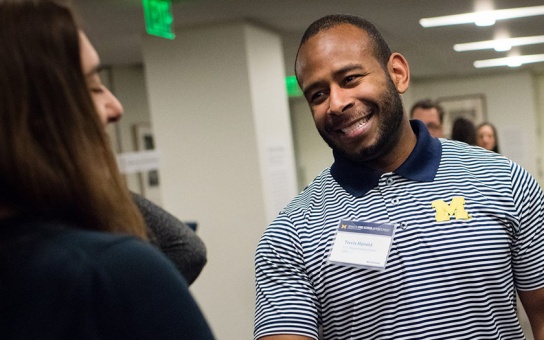 There are many different ways to stay engaged
Keep your contact information up-to-date. Fill out your graduation check-in survey. Having your most recent contact information means you won't miss out on Ford School news, events, and updates. Each time you move and/or change jobs, you can update your contact information by filling out a form linked on that page.
Join the LinkedIn group. Connect with over 2,300 Ford School alumni and continue to  grow your Ford School network!
Plug into our resources for continued learning and growth. As an alum, you may still access some of the Ford School's professional and educational resources, such as FordCareers. You may register as an alum in FordCareers and/or learn more about the career resources available through the U-M Alumni Association. 
Maintain your connection through the U-M Alumni Association with your family of 600,000+Wolverines. Check out the career resources, access to alumni clubs and alumni communities, or whatever interests you by visiting alumni.umich.edu. 
Become an Alumni Admissions Ambassador and help recruit the next class of the leaders and best. Alumni Admissions Ambassadors attend recruitment fairs, make phone calls to admitted students, and/or share Ford School recruitment materials with friends, colleagues, and family members who are prospective students. 
Send in job and internship opportunities with your organizations—as you get settled in your jobs—to fordcareers@umich.edu. Make your fellow Fordies your colleagues!
Follow the Ford School on social media.
And don't forget, as a new grad, the U-M Alumni Association also welcomes you to a family of 600,000+ fellow Wolverines. Check out their website for information on accessing alumni community career resources and networking opportunities.
... there is no way we can go forward except together and no way anybody can win except by serving the people's urgent needs. We cannot stand still or slip backwards. We must go forward now together.

Gerald R. Ford (AB '35, HLLD '74), 38th President of the United States
Forever, and always, Go Blue!