Promoting Digital Democracy
Part of the Seminar Series on Supporting Democracy, organized by the Weiser Diplomacy Center and co-sponsored by the Weiser Center for Emerging Democracies for UM's "Democracy and Debate" theme semester
Open to all University of Michigan students. 
Speaker
Amy Studdart, Senior Advisor for Digital Democracy, Center for Global Impact at the International Republican Institute (IRI)
Date & time
Oct 5, 2020, 11:30 am-12:50 pm EDT
Location
This is a Virtual Event.
Please join us for a virtual seminar with Amy Studdart, senior advisor at the International Republican Institute, where she leads the organization's digital democracy programming, in conversation with Associate Professor John Ciorciari, director of the Weiser Diplomacy Center and International Policy Center about two case examples of combating misinformation while promoting open online spaces, in Taiwan and Venezuela.
About the Speaker: 

Amy Studdart is concurrently the founder and CEO of Villager, a start-up working to bring democracy into the 21st century. She was previously a fellow with The German Marshall Fund of the United States (GMF) where she established the organization's programming on technology policy. Prior to that, she worked with the executive communications team at Facebook on a project interrogating the social, economic and political implications of the company's mission to connect the world. She was deputy director and fellow of the William E. Simon Chair in Political Economy at the Center for Strategic and International Studies (CSIS) in Washington, D.C., where she ran a series of programs focused on 21st century economic statecraft and the evolution of the global economic order. She worked in Brussels from 2008-14, first at the Carnegie Endowment for International Peace, where she helped to establish their Europe office, and then at GMF, where she managed the Stockholm China Forum. She has published and spoken around the world on technology's impact on democracy and society; the rise of digital authoritarianism; and the digital economy.
Have any questions?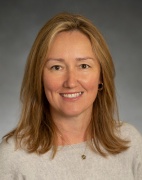 Senior Assistant to the Dean
Weill Hall
735 S. State St. #3310
Ann Arbor, MI, 48109
Contact