Science for the people: Innovation policy in the United States
Speaker
Kumar Garg, Managing Director at Schmidt Futures and former Assistant Director of the White House Office of Science and Technology Policy
Date & time
Jan 26, 2022, 4:00-5:00 pm EST
Location
This is a Virtual Event.
Join us for a conversation on deploying science, technology, and data for the public good, with Kumar Garg, senior managing director at Schmidt Futures and former assistant director of the White House Office of Science and Technology Policy, and Shobita Parthasarathy, professor of public policy and director of the Science, Technology, and Public Policy program.
This event is being pre-recorded on the morning of January 26, and will be released on January 26 at 4pm Eastern. Watch this event on YouTube.
From the speaker's bio
Kumar Garg is senior managing director and head of partnerships at Schmidt Futures. In this role, Kumar works to help all major Schmidt Futures programs find successful leverage, as well as helping to run the technology and society portfolio.
He previously helped shape science and technology policy for the Obama Administration for nearly eight years, serving in a variety of roles in the White House Office of Science and Technology Policy (OSTP). Garg led the Obama Administration's efforts to bolster science, technology, engineering, and math (STEM) education, including the Educate to Innovate campaign, with more than $1 billion in in-kind and philanthropic investment; development of major State of the Union initiatives to train 100,000 excellent STEM teachers and bring computer science to all K–12 students; and creation of iconic events such as the White House Science Fair.
Working with the OSTP deputy director, he supervised a team of 20 staff with portfolios including broad innovation policy, advanced manufacturing, behavioral sciences, biotechnology, broadband, digital media, entrepreneurship, the maker movement, space, nanotechnology, and prizes. As a senior leader at OSTP, Garg was involved in policy development, implementation, and communication of a wide range of science and technology issues.
Prior to his time in government, he worked on behalf of parents and children seeking educational reform as an education lawyer and advocate. He received a bachelor's degree from Dartmouth College and a law degree from Yale Law School.
Sponsors
This event is hosted by the Science, Technology, and Public Policy program and the Ford School of Public Policy and co-sponsored by the Michigan Institute for Data Science (MIDAS), Institute for Research on Innovation and Science (IRIS), and the U-M Office of Research. 
Have any questions?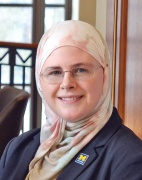 Administrative Coordinator/Project Coordinator, Weiser Diplomacy Center, Center for Local, State, and Urban Policy
Weill Hall
735 S. State St. #5246
Ann Arbor, MI, 48109
Contact