2012 Worldwide Ford School Spirit Day
Date & time
Dec 3, 2023, 8:34 am EST
Location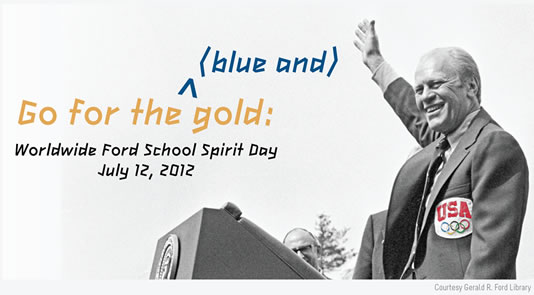 President Ford waves to the crowd at the Farewell Ceremony for the Montreal-bound U.S. Olympic Team in July 1976.
Don't miss out on the second annual Worldwide Ford School Spirit Day, coming this July to a city near you. In the spirit of this summer's Olympic Games, we encourage you to gather together and celebrate your Ford School pride, blue and gold style.
Just what is Worldwide Ford School Spirit Day?
An alumni-led opportunity for you to catch up with Ford School friends, including alums, current students, incoming students, and other community members - all are welcome!
A chance to find out what is happening at the Ford School
An excuse to share your Ford School spirit by toasting to President Ford on what would have been his 99th birthday!
RSVP for the specific Spirit Day gatherings below in Ann Arbor, Boston, Chicago, Detroit, Lansing, New York City, San Francisco, Seattle, Tokyo, and Washington, DC.
Or, if your city is not on the list, contact Elisabeth Johnston, Alumni Relations manager, at eajohnst@umich.edu or 734-615-5760, for information on how you can organize a Spirit Day in your city. All Spirit Day gatherings are free to attend; food and drinks will be available for purchase.
Locations:
Ann Arbor, MI
Date: July 12, 2012
Time: 5:30-7:30 p.m.
Location: Dominick's, 812 Monroe St., Ann Arbor, MI 48104, 734-662-5414
Alumni Hosts: Norm Bishara (MPP '04), Maria Liu (BA '12), Victor Miesel (MPP '87), and Perry Zielak (MPP '12)
RSVP: http://www.facebook.com/events/285607578204908/
Boston, MA
Date: July 12, 2012
Time: 7-9 p.m.
Location: Cambridge Brewing Company, 1 Kendall Sq., Building 100, Cambridge, MA 02139, 617-494-1994, cambridgebrewing.com
Alumni Hosts: Skye Stewart (MPP '10) and An-Li Herring (BA '11)
RSVP: http://www.facebook.com/events/330640150345347
Chicago, IL
Date: July 12, 2012
Time: 5-7 p.m.
Location: Rockit Bar & Grill, 22 W. Hubbard. Chicago, IL 60654, (312) 645-6000, rockitbarandgrill.com
Alumni Hosts: Dana Hopings (MPP '01), Karlo Marcelo (MPP '05), and Matthew Steiner (MPP '07)
RSVP: http://www.facebook.com/events/445374142147148/
Detroit, MI
Date: July 12, 2012
Time: 6-8 p.m.
Location: Seva Restaurant, 66 E. Forest Ave., Detroit, MI 48201, 313-974-6661, sevarestaurant.com
Alumni Hosts: Kate Brady-Medley (MPP '01), Lisa Nuszkowski (MPP '03), and Andrew Schroeder (MPP '07)
RSVP: http://www.facebook.com/events/330514933693526/
Lansing, MI
Date: July 12, 2012
Time: 5:30 p.m.
Location: Tavern on the Square, 206 S. Washington Square, Lansing, MI 48933, 517-374-5555, tavernonthesquare.com
Alumni Hosts: Brandy Johnson-Faith (MPP '09) and Sara Wycoff (MPP '11)
RSVP: http://www.facebook.com/events/247016608743151/
New York City, NY
Date: July 12, 2012
Time: 6-8 p.m.
Location: B Bar and Grill, 40 East 4th Street at Bowery, New York, NY 10003, 212-475-2220, bbarandgrill.com
Alumni Hosts: Bulbul Gupta (MPP '04), Paul Hanna (MPP '05), Catherine Lomax (MPP '01), and Simon Tam (MPP '11)
RSVP: http://www.facebook.com/events/318355441579633/
San Francisco, CA
Date: July 12, 2012
Time: 6-8 p.m.
Location: Palomino, 345 Spear Street, San Francisco, CA 94105, 415-512-7400, palomino.com
Alumni Hosts: Greg Mandleman (MPP '10 ) and Jomo Thorne (MPP/MBA '08)
RSVP: http://www.facebook.com/events/427486867291689/
Seattle, WA
Date: July 12, 2012
Time: 5:30-7:30 p.m.
Location: Spitfire, 2219 4th Ave., Seattle, WA 98121, 206-441-7966, spitfireseattle.com
Alumni Hosts: Tesia Forbes (MPP/MUP '06), Daniela Pineda (PhD '10), and Rachel Quinn (MPP/MPH '04)
RSVP: http://www.facebook.com/events/303529409739208/
Tokyo, Japan
Date: July 12, 2012
Time: 8:00 p.m. - 10:00 p.m.
Location: Sign Kasumigaseki, Kasumigaseki Bldg. Kasumi Dining LbF, 3-2-5 Kasumigaseki, Chiyoda-ku, TOKYO 03-6206-1050 - www.transit-web.com/shop/cafe/sign-kasumigaseki/<
Alumni Hosts: Jun Kondo (MPP '05) and Tsuneki Matsuo (MPP '12)
RSVP: http://www.facebook.com/events/363639097036829/
Washington, DC
Date: July 12, 2012
Time: 6-9 p.m.
Location: Policy Restaurant and Lounge, 1904 14th St., NW, Washington, DC 20009, 202-387-7654, www.Policydc.com
Alumni Hosts: Elle Beard (BA '09) and Paul Weech (MPP '81)
RSVP: http://www.facebook.com/events/331778370234096/