Film screening: Almost Sunrise
Date & time
Dec 4, 2023, 8:30 pm EST
Location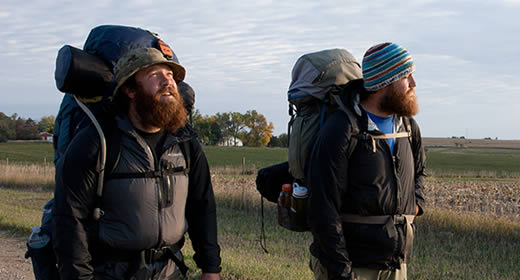 Free and open to the public.
Discussion to follow, moderated by Sarah Richards of Veterans Affairs.
About the film:
Emmy-Nominated in 2018 for Outstanding Current-Affairs Documentary, Almost Sunrise is a story of veteran resilience and recovery. The film follows two Iraq veterans, Tom Voss and Anthony Anderson, who struggle with depression upon returning home from service. Fearful of succumbing to the epidemic of veteran suicide, they seek a lifeline and embark on a 2,700-mile walk across America as a way to confront their inner pain.
The film captures an intimate portrait of two friends suffering from the unseen wounds of war as they discover an unlikely treatment: the restorative power of silence and meditation.
About the discussant:
Sarah KH Richards, LMSW is the Case Management Coordinator at the Ann Arbor VA where she is also a member of the PTSD Clinical Team providing assessment and treatment for PTSD. She supervises the Serving Returning Veteran Mental Health (SeRV-MH) and Veterans Integration to Academic Leadership (VITAL) case management team, is involved in implementation of the VA Whole Health Initiative and Special Enhanced Mental Health Eligibility point of contact for the Mental Health Service. She earned a Master of Social Work Degree from the University of Michigan and is Registered Yoga Teacher and iREST (Integrative Restoration) Level I Teacher in Training. She has worked with Veterans since 2007. Her clinical and research interests include post-deployment readjustment for combat Veterans, women's mental health and complementary and integrative health approaches to chronic health and mental health conditions.
For more information, visit http://sunrisedocumentary.com/
Hosted by the University of Michigan Veteran and Military Services and the Gerald R. Ford School of Public Policy