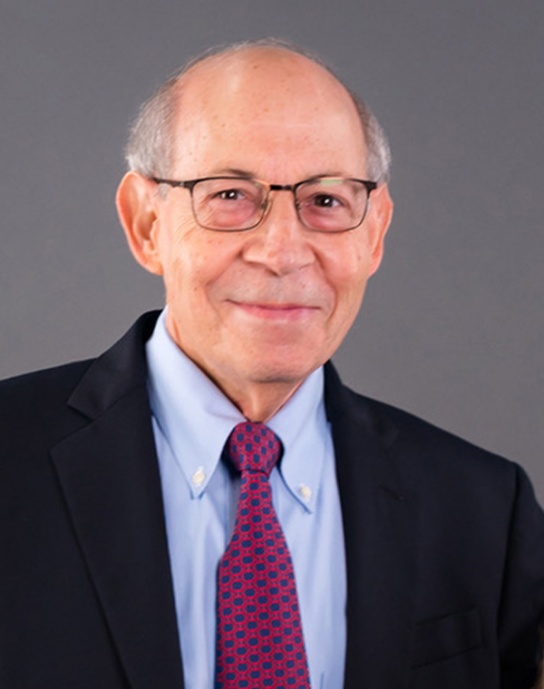 Harold Lewis Kohn and his twin sister, Arlene Susan, were born on April 1, 1945, at Sydenham Hospital in upper Manhattan, New York. They joined older sister, Lenore Barbara, the first child of Karl and Martha Sternberg Kohn. The Kohns emigrated to the United States from the Franconia region of Bavaria, Germany, in the late 1930s, escaping persecution by the German National Socialist government. With Harold's and Arlene's arrival, the Kohn family, which included Martha's mother Hedwig Sternberg, moved from their Washington Heights neighborhood in Manhattan to Middle Village, Queens. Like many immigrant families settling in New York at this time, their lives focused on the needs of the moment, their aspirations for the future, and the continual plight of the Brooklyn Dodgers. They did not, however, discuss with their children the reasons that caused them to flee their home for the safety of the United States. Harold and his sisters would learn these hard truths later.
Harold was educated in New York City public schools. Upon graduation from Newtown High School in 1962, he followed Lenore to the University of Michigan. He graduated in 1966 with a B.S. in chemistry. He was drawn to continue his study of science because of its breadth, logic and predictability. Harold completed his doctoral studies in chemistry at the Pennsylvania State University under the direction of Professor Roy Olofson and with support of a National Science Foundation traineeship and National Institutes of Health predoctoral fellowship. Between 1971 and 1973, he conducted an NIH-sponsored postdoctoral study with Professor Ronald Breslow at Columbia University.
Harold began his academic career in the Department of Chemistry at the University of Houston in 1973 as an assistant professor. Over the next 26 years, while keeping two young sons busy with their activities, teaching organic chemistry, and directing graduate students in his lab, Harold rose to become M.D. Anderson Professor of Chemistry. His interests in organic chemistry evolved, driven by the beautiful linkage between the importance of biological molecules' structures and their function. In 1988, Harold met Carol Anne Kakalec, and they formed their own linkage when they married three years later.
In 1999, Harold was recruited by the University of North Carolina to lead the Division of Medicinal Chemistry and Natural Products (now the Division of Chemical Biology and Medicinal Chemistry). He was named Kenan Distinguished Professor with joint appointments in the Eshelman School of Pharmacy and the Department of Chemistry. Harold chaired the advisory board of the University's Center for Faculty Excellence, and he was the founding director of the Eshelman School of Pharmacy's Bill and Karen Campbell Faculty Mentoring Program, an innovative program to encourage and assist junior research faculty.
Harold's research focused on elucidating the mode of action of clinical agents, especially anticancer and neurological agents and antibiotics, and on drug discovery. His research reported on new synthetic routes for several important classes of molecules, including diamines, unnatural amino acid derivatives, and heterocyclic compounds. Harold's work is credited with the discovery of lacosamide (Vimpat®), a first-in-class antiepileptic drug marketed worldwide for the treatment of partial and generalized seizures. Over his career, he has had 180 peer-reviewed studies, 10 U.S. patents, and more than 25 international patents. He trained 30 doctoral, 7 masters, and 30 postdoctoral students.
Harold Kohn's research accomplishments in science and human health care have been recognized through receiving the Alfred P. Sloan Research Fellowship, Camille Dreyfus Teacher Scholar Award, American Association of Colleges of Pharmacy Paul R. Dawson Biotechnology Award, University of Houston President's Medallion, University of North Carolina Faculty Mentoring Award, University of Carolina Eshelman School of Pharmacy Distinguished Service Award, and Penn State Eberly College of Science's Outstanding Science Alumni Award. He is a member of the American Chemical Society, the National Academy of Inventors, and is a fellow of the Royal Chemical Society (U.K.).
Harold retired in 2015, and in December 2016, he and Carol established the Kohn Charitable Trust to address, in part, their shared belief that structural inequalities in the U.S. have muted many voices and that a vibrant America must empower and must utilize the talents of all its residents. In recognition of the complexity and immense nature of these societal issues, the Kohns have worked with the Gerald R. Ford School of Public Policy at the University of Michigan to facilitate constructive discussions, promote scholarship, and advance progressive domestic social policies. With the Ford School, the Kohn Charitable Trust has invested in endowed professorships and in establishing the Kohn Collaborative for Social Policy to catalyze new research of important social issues.
Harold's and Carol's blended family comprises Carol's twins Jocelyn Friel, husband Myles, and Hunter Schappaugh, wife Peggy, and Harold's sons Jeffrey Kohn, wife Kara, and Nicholas Kohn.
The Kohns have five grandchildren, Kent and Pierce Friel, Jakob, Zachary, and Naomi Kohn.
---
Written by Dr. Harold and Carol Kohn, Directors Kohn Charitable Trust