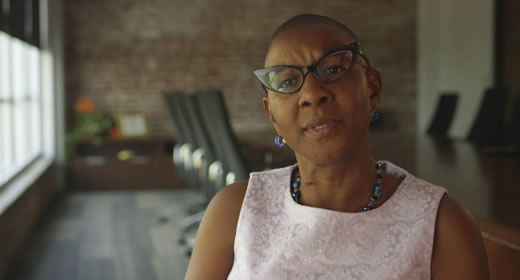 Bright, energetic, and compassionate, Tosha Downey—one of more than 4,000 graduates of the national Public Policy and International Affairs program—is deeply engaged in Chicago's south side renaissance, and in dramatically improving educational opportunities for children in some of the city's most challenged urban communities.
When I reach Tosha Downey (MPP '96) on her cell phone, she's navigating Chicago's south side to pick up a former student for a group intervention.
"Hands down," says Downey of the 19-year-old she's meeting, "this girl was one of the most promising kids we worked with." After graduation, though, she moved out of the community where we ran our program; it wasn't long before she found herself in trouble. Downey is hoping today's meeting will help get her back on track.
I make the mistake of asking if Downey considers this young woman one of her failures. Downey's response is polite, but instantaneous. "She's 19," Downey says. "It's hard to declare a failure at 19." Still, Downey acknowledges that this is a community failure, a school failure, an organizational failure, and an environmental failure.
"The thing that's crazy is that this is a community in which we invested over $100 million dollars, to make sure that kids could go to high school, and to college. But if the kids don't realize that these kinds of opportunities are open to them, then we've failed. They have to realize that the world is bigger than the four blocks around them."
Downey is one of more than 600 alumni of the Ford School's Public Policy and International Affairs (PPIA) Junior Summer Institute—a national initiative launched by the Sloan Foundation 30 years ago to help underrepresented minorities prepare for graduate school and, ultimately, leadership roles in public service.
Ford School Professor Carl Simon—who taught calculus, pre-calculus, and advanced economics in the program for more than two decades—says the Sloan Foundation's vision was just right. "If you want more minorities in high-level public sector positions—and you do if you want government and non-profit leaders to reflect the diverse communities they serve—you need to get them into policy schools." The program, says Simon, "was incredibly ingenious. And it worked."
At participating universities across the nation, some 4,000 college juniors have been through PPIA's free, sevenweek summer institute, which focuses on the core skills students require to gain admittance to, and succeed in, a graduate-level policy program. Classes introduce students to timely policy topics, help hone their writing and math skills, get them ready for the GRE, and prepare them for graduate-level statistics and economics courses.
Since the PPIA program was launched in 1981, more than 15 percent of the 4,000 graduates, like Downey, have completed their summer institute right here at the Ford School—many of them studying with longtime faculty members like Carl Simon, John Chamberlin, Mary Corcoran, Paul Courant, Sheldon Danziger, Alan Deardorff, Edie Goldenberg, and Janet Weiss.
What these PPIA students accomplish when they leave the institute and finish graduate school—the vast majority of them do complete master's degrees in public policy and international affairs—has been impressive. Today, alumni of the program include foreign service officers with USAID, senior policy advisors at the United Nations, community development managers for major banks, program managers at national nonprofit advocacy groups, and more.
For Downey, participation in the PPIA program helped her land leadership roles with some of Chicago's most innovative nonprofits working to improve educational and life opportunities for children in the city's toughest neighborhoods. But Downey doubts she'd have had the opportunity to do this kind of work without the summer institute.
When Downey entered the seven-week summer institute in 1993, she was a junior at Clark Atlanta University, studying to be a middle school English and math teacher and, through Upward Bound, providing pre-college counseling to high school students who would soon be the first in their family to attend college. It was an important job—just like teaching, the career Downey was planning to pursue—but one that offered limited growth prospects, and opportunities to make only incremental changes, one student at a time.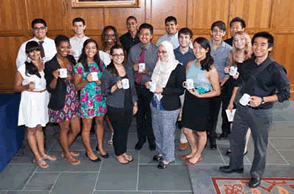 Students from the class of 2011 PPIA Junior Summer Institute
The PPIA program helped Downey understand the larger socioeconomic and societal factors contributing to educational inequity, and the programs and policies that seemed to be helping turn schools and communities around. She took courses in quantitative analysis, which taught her to evaluate program outcomes rigorously, and education policy, which exposed her to policies that were combating inequity, fostering innovation, and in some cases, creating systemic change.
After completing the PPIA Summer Institute—then known as the Woodrow Wilson Fellowship Program—Downey went on to earn her master's in public policy from the Ford School in 1996, where she deepened her knowledge of policy and analysis. On graduation, she was hired as a research fellow for the Patrick & Shirley Ryan Family Foundation and became operations director for Chicago's Alain Locke Charter Academy, where she served as a founding member of the school leadership team for one of the most successful urban school charters in the United States.
Today, Downey is a recruitment manager for the Academy for Urban School Leadership, a non-profit organization charged with turning around some of Chicago's most high need, chronically underperforming public schools. While the schools Downey works with might once have been categorized as 'dropout factories,' they're now showing monumental gains in some of the key indicators of success.
Across the nation, close to two dozen public policy schools once offered the free, junior summer institute that is the cornerstone of the PPIA program's success. While the majority of those schools stopped doing so when external funding for the program was cut more than a decade ago, the Ford School never missed a beat.
"We're one of only two schools that has never missed a summer," says Susan M. Collins, Joan and Sanford Weill Dean of Public Policy. "When funding was pulled, the University of Michigan and the Ford School decided this was a program we were deeply committed to, and the decision was very, very clear."
"That's a decision we're all really proud of, and one we continue to support to this day."
---
Below is a formatted version of this article from State & Hill, the magazine of the Ford School. View the entire Winter 2012 State & Hill here.