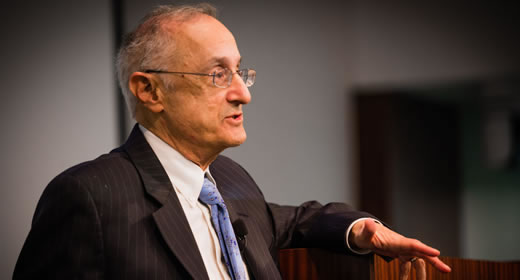 On September 28th, Professor Robert Axelrod was presented the 2013 Johan Skytte Prize in Political Science. The Skytte Prize is one of the most prestigious awards in political science and recognizes outstanding academics for their contribution to the discipline.

Axelrod received the award at a ceremony at Uppsala University in Sweden. In conjunction with the ceremony, Axelrod also gave a public lecture titled "How Political Science Can Enrich Other Disciplines." The Skytte Prize is in its 19th year and is named for the university's 17th century vice-chancellor, Johan Skytte.

The Skytte Foundation selected Axelrod to receive the award for "profoundly having changed our presumptions about the preconditions for human cooperation." In a statement about the ceremony, the Foundation noted that "his findings are of crucial importance to a better understanding of international relations, negotiations, complex organizations, and political decision-making assemblies."