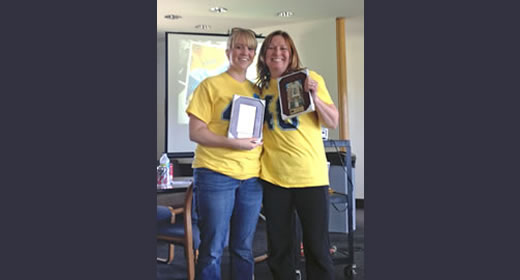 Congratulations to Elisabeth Johnston, alumni relations manager, and Bonnie Roberts, project coordinator for the Center for Local, State, and Urban Policy (CLOSUP) for receiving Staff Recognition Awards! Now in its seventh year, the Staff Recognition Awards honor two staff members and are a highlight of the Annual Ford School Staff Retreat, held June 4. The two women were recognized for exceptional contributions to the Ford School team.

Elisabeth Johnston was praised for her positive attitude, innovative ideas, organization skills and cross-unit collaboration activities, and for making significant contributions after fewer than two years on staff. According to one nominator, "when a challenging situation arises, Elisabeth is known to say, 'what are the positives for this situation?'" Another noted that she "always brings her 'A Game' to everything she does."

Referring to Bonnie Roberts, one nominator noted that "I've seen her turn potential train wrecks completely around on the fly—she's that positive of a force!" Roberts was honored for her consistently positive attitude, cross-unit collaboration, and outstanding customer service, and is considered by many to be a mentor to other staff members.

The Ford School Staff Recognition Award is a peer-nominated and evaluated award recognizing high standards of professional service and/or the outstanding contribution(s) of a staff member. Each year, up to three staff are selected as recipients of this award. The staff members' accomplishment(s) over the previous twelve months should serve to enrich the Ford School community through such contributions as improvements to work processes, exemplary customer service, and cross-unit collaboration.

Both consistent, above-the-bar performance and outstanding one-time contributions are considered for this annual award.

In her introductory remarks at the informal awards ceremony, Marcella Brighton, chief administrative officer, quoted former U-M football coach Bo Schembechler (late), saying "The team, the team, the team!"—and emphasizing that "it is the team, the staff team, that makes the Ford School such a great place to work."