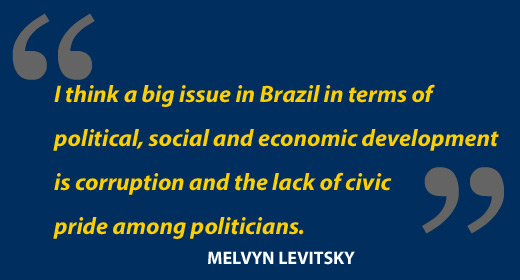 Written for Global Michigan by William Foreman.
Brazil's presidential election on Oct. 5 could be tight. The incumbent is Dilma Rousseff, who has struggled to match the popularity of her charismatic predecessor, Luiz Inacio Lula da Silva.
Nipping at Rousseff's heels is Marina Silva, who jumped to the top of her party's ticket after her party's candidate died in a plane crash in August. Silva is a green activist and former environment minister who has enjoyed a surge in the polls in the final weeks of the campaign.
Running third in the race is Aécio Neves, a centrist candidate who many thought would be Rousseff's biggest challenger before Silva decided to run.
One of the best experts on Brazilian politics is Mel Levitsky, professor of international policy and practice at the Ford School of Public Policy at the University of Michigan.
Levitsky is a retired ambassador who began his diplomatic career as a consul in the northeastern Brazilian city of Belem in the late 1960s. He returned in 1994 to serve as ambassador during the Clinton administration.
Levitsky discussed the election with Global Michigan:
Global Michigan: Can you set the scene for the election by describing Brazil's position on the world?
Levitsky: Brazil has become a big actor on the international scene. So, who is in charge of Brazil – what party and what political and economic philosophy governs the country – is important.
Read the full story, "An ambassador's analysis: Mel Levitsky on Brazil's presidential election," at Global Michigan.