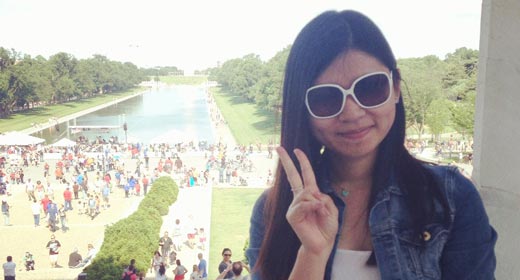 "Hello. Congressional Management Foundation….How may I help you?"
So begins DuoDuo (Doris) Zhang's days as a research assistant at the DC-based Congressional Management Foundation (CMF), which works to enhance interactions between Congressional leaders and constituents. "But don't think answering phone calls is all there is to my internship," says Zhang. "Life in CMF is much more exciting."
Originally from China, Zhang is working on three projects while living in Washington, DC this summer. She's conducting research for CMF's Life in Congress initiative, which will promote flexible work policies on Capitol Hill. She's developing a concept paper for a new congressional management award CMF plans to extend to House and Senate offices. The award, says Zhang, will recognize strong policies and practices in a variety of management areas. And she's helping to develop a tracking system for House election campaigns so CMF knows how to reach the winning officers after each election.

Along the way, Zhang is learning a good deal—both through her work, and through conferences and training events. "My boss encourages me to learn, and I take every chance to closely observe how democracy works, and how outside groups influence public policy in [the] real world." In the past few weeks alone, Zhang reports that she attended the 2014 Legislative Data and Transparency Conference, a number of advocacy training events, and policy talks at the National Archive and Brookings Institution.

"Life in D.C. is amazing," says Zhang. As an international student, she's enjoying the opportunity to soak up the culture. She's watched World Cup matches, attended jazz performances, shopped at the Georgetown mall, eaten Chinese food with colleagues, and visited the Smithsonian. Her favorite activity? "Jogging along Constitution Avenue in the evening and enjoying the summer breeze."

Zhang graduated from Sun Yat-sen University with a bachelor's degree in public policy. As an undergraduate student, she participated in various social activities, serving as a voluntary teacher in rural areas, working at an NGO in India, and assisting with research about migrant workers in China. She is interested in various policy areas, especially social policy and policy analysis.