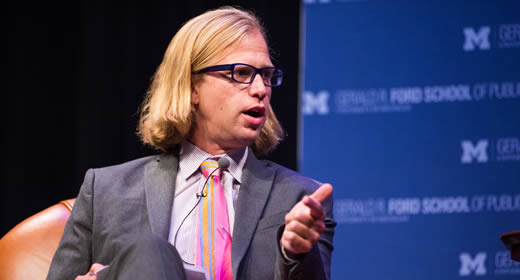 "The path from gambling at a Sydney racetrack to sparring with the world's intellectual elite led Justin Wolfers to become one of Australia's more unorthodox and influential academic exports," writes Washington Correspondent John Kehoe in an extensive feature on Ford School Professor Justin Wolfers published in the May 30 issue of the Australian Financial Review Magazine.

In his far-ranging portrait, "How Justin Wolfers became a bright Aussie export," Kehoe explores many facets of Wolfers' personal and professional life. The article touches on his family and early childhood, his work as a young bookie's runner, his politics, his studies at Harvard, his courtship with Professor Betsey Stevenson, his decision to stay in the U.S., his parenting, his far-ranging economic research and impact, and his present experience at the Brookings Institution, where he's serving as a senior fellow while on leave from the Ford School.

"Wolfers has pushed economics into non-traditional areas, combining the dismal science with psychology, sociology and politics," writes Kehoe. "In the process he has succeeded where most economists fail: in making economics accessible, understandable and relevant to the masses."

Justin Wolfers is a professor of public policy and economics at the University of Michigan and a senior fellow at the Brookings Institution.