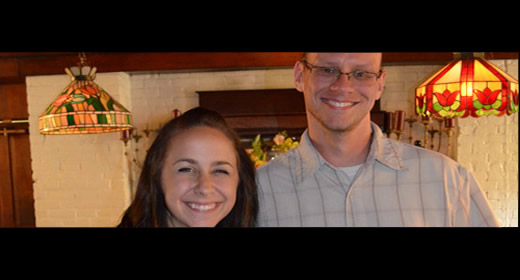 Congratulations to Lindsay Price, academic advisor, and Tom Cook, instructional services/computing technician, for receiving Staff Recognition Awards! Now in its eight year, the Staff Recognition Awards are a highlight of the Annual Ford School Staff Retreat, which was held this year on June 19. Both staff members were recognized for exceptional contributions to the Ford School team.

The Ford School Staff Recognition Award is a peer-nominated and evaluated award recognizing high standards of professional service and/or the outstanding contribution(s) of a staff member. Each year, up to three staff are selected as recipients of this award. The staff members' accomplishment(s) over the previous twelve months serve to enrich the Ford School community through such contributions as improvements to work processes, exemplary customer service, and cross-unit collaboration.

Lindsay Price was described by one of her nominators as someone eager to learn and willing to serve, with an amazingly consistent positive attitude. According to one nominator, "she has worn many hats, and looked at each opportunity as a great learning experience." Another noted that "she works to expand the knowledge of others around her too, and sees opportunity to assist others as part of her role, not in addition to it."

Referring to Tom Cook, one nominator noted that "he is someone you can count on, someone who is there to help regardless of how busy he is, and available in a blink of an eye." Cook was honored for approaching problems with the can-do attitude of "what can I do to help?" Recently, a faculty member noted, "I fear he will soon need knee replacements after all the time he has spent kneeling in front of my computer monitor!"

In her introductory remarks at this year's informal awards ceremony, Marcella Brighton, chief administrative officer, took a moment to reflect on why the Ford School is such a special place to work. "It's the people who work here – people who care about one another, and our entire community of faculty, staff, alumni, students, prospective students, donors, and friends."