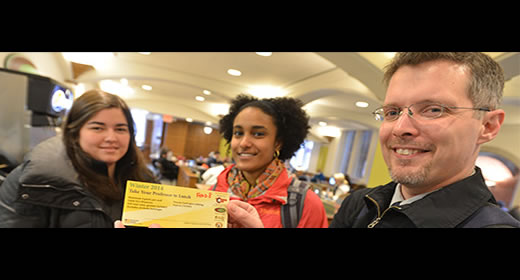 On March 19th, 2014, Ford School students Maron Alemu and Analidis Ochoa took professor Luke Shaefer to lunch at the Michigan League as part of the Ford School's "take a faculty member to lunch" program. Shaefer, an assistant professor at the School of Social Work, studies poverty, material hardship, and government aid programs across the United States.

When Ochoa mentioned to Alemu how much she was enjoying Shaefer's "Social Welfare Policy" class (PubPol 746), the two agreed to take advantage of the program. Although Alemu was interested in social welfare policy, scheduling conflicts had kept her out of Shaefer's class, so she was eager to talk to the instructor. The three ate at Beanster's Café in the Michigan League, tailed by a photographer from the Ford School. See photos in our Flickr album.

During lunch, the three discussed Shaefer's research on medical policy in extremely poor areas of the United States, specifically his work on accessible dental care and the conflicts this has generated with dentist's unions. Ochoa was impressed by Shaefer's research agenda. "I think that research is only meaningful if it could be utilized to bring tangible changes," said Ochoa. "[Shaefer's] work seeks to accomplish this. Not all researchers have this goal in mind."

The students also discussed their policy studies and career aspirations. "It was also an opportunity to share what we think about the Ford School," Alemu said, "and what we hoped to get out of our summer internship and pursue after Ford."

The take a faculty member to lunch program, designed to foster community and collegiality, offers students vouchers worth up to $50 to use at the Michigan Union, the Michigan League, the Shapiro Library, the Pierpont Commons, or the Duderstadt Center. All students and all faculty teaching at the Ford School are eligible, including faculty, like Luke Shaefer, who hold their primary appointments at other schools.