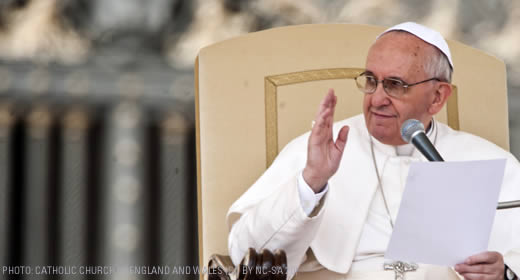 According to a new CLOSUP report, more Americans than ever have accepted global warming, influenced in part by Pope Francis' recent Papal Encyclical on climate change.
American acceptance of global warming is at its highest level since 2008, with the most notable gains in the past six months observed among Evangelical Christians.
Barry Rabe and Sarah Mills of the Center for Local, State and Urban Policy partnered with Christopher Borick from the Muhlenberg Institute of Public Opinion to perform their analysis, which is informed by data from their National Surveys on Energy and the Environment.
The authors find that most Americans (60 percent) support Pope Francis' statements on climate change, and some Americans are even more convinced that climate change is happening as a result of his statements. This is despite the fact that fewer than half of surveyed Americans think that religious leaders should discuss environmental issues within the context of their faith.
"This survey offers only a single snapshot from a very salient period in the life of this papacy," said the authors in a recent Brookings blog post. "It is impossible to know what lasting effects his visit will have, particularly over coming months and years. But our findings suggest that his message appears to resonate broadly with diverse subgroups of the American population and may have had some impact on how Americans understand climate change."
Barry Rabe is the J. Ira and Nikki Harris Family Professor of Public Policy at the Ford School and the Arthur F. Thurnau Professor of Environmental Policy in the School of Natural Resources at the University of Michigan. He is the Director of the Center for Local, State and Urban Policy (CLOSUP).
Sarah Mills is a postdoctoral fellow at CLOSUP. She serves as project manager for the Michigan Public Policy Survey (MPPS), supports the National Surveys on Energy and Environment (NSEE), and is continuing research looking at the impact of wind energy policy on rural communities.