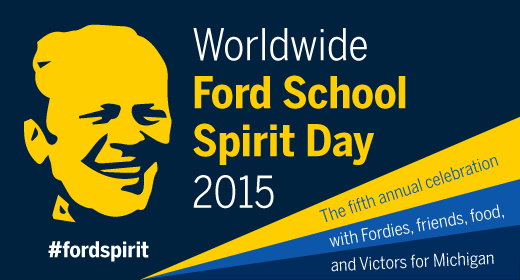 The fifth annual Worldwide Ford School Spirit Day will be held on Thursday, July 9 in a dozen domestic and international cities.
We'll send out invitations with more details soon, but for now, we're happy to announce that alumni-led Spirit Day gatherings are confirmed for the following cities.
Ann Arbor, MI
Boston, MA
Chicago, IL
Denver, CO
Detroit, MI
Lansing, MI
Los Angeles, CA
Mexico City, Mexico
New York, NY
San Francisco, CA
Tokyo, Japan
Washington, DC
If you're interested in hosting a Worldwide Ford School Spirit Day in your city, please contact Elisabeth Johnston, alumni relations manager, at eajohnst@umich.edu.