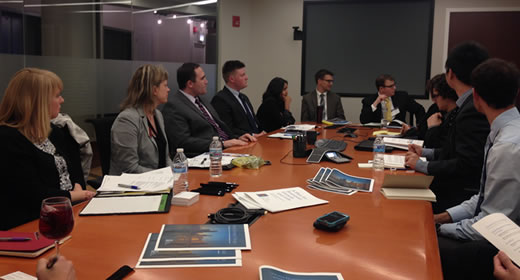 For the second year in a row, the Ford School joined with the University of Minnesota's Humphrey School of Public Affairs to host a student career exploration trip in Chicago, May 19-21, 2015. MPP students from both schools had the opportunity to learn about the policy employment opportunities in the windy city through a variety of panels as well as networking opportunities with Chicago-based alums.
Some panels were topic-specific and covered areas such as consulting, foundations, associations, and work in the federal government. The foundations panel, which featured panelists from The Chicago Community Trust, MacArthur Foundation, Fry Foundation, and Polk Brothers Foundation, was a highlight for many students and staff.
"Students were able to make connections with the different types of foundations and learn how the accountability model is different in each," says Amy Johnson, assistant director of Graduate Career Services, of the foundations panel. "One of the panelists advised students interested in foundation jobs to prepare by gaining experience with specific issues and programs. In general foundations tend to hire 'former doers' who can bring foundations strong content knowledge of the work happening on the ground."
The trip also allowed the Ford School to renew existing partnerships with employers and to create new employment relationships with NORC, World Business Chicago, and Enterprise Community Partners, says Elisabeth Johnston, manager of alumni relations. 
The student-alumni networking reception on Wednesday, May 20, served as a capstone for the trip, bringing together Ford School and Humphrey School alumni to meet, network, and socialize with students. More than a dozen Ford School alumni attended the event, held at BlackFinn in downtown Chicago, and even a few incoming students attended to start making early connections with their Ford School colleagues.