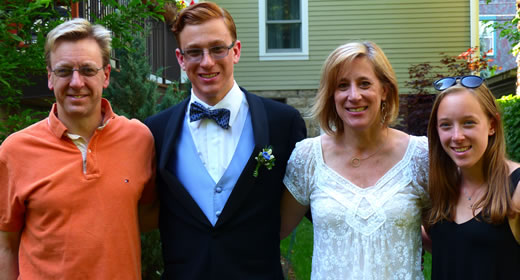 BART EDES (MPP '87) is excited to report that he now oversees knowledge management at the Asian Development Bank (ADB). In this role, he guides ADB's efforts "to transform the way in which we create, collect, store, access, share, and apply what we know to raise productivity, support innovation, and improve service to the developing Asian and Pacific countries with which we work."
BOB LEWIS (MPP '92, pictured right) has been promoted to group head of the Global Finance Group at Sidley Austin in Chicago. KAREN NOWAK LEWIS (MPP/MBA '93, pictured right) took a new position as director of strategic opportunities at Chicago Wilderness, a non-profit regional conservation alliance.
DAVID IANNELLI (MPP '93) recently founded Hudson Pacific, "a data-driven consultancy that counsels organizations on public affairs issues, reputation, and crisis management." Previously, Iannelli was executive vice president of global research at Hill+Knowlton Strategies.
COLLEEN HEFLIN (MPP '95) has been promoted to full professor at the University of Missouri's Truman School of Public Affairs.
JOHN ZIRALDO (MPA '96) has been appointed vice president of programs and strategy at the Skillman Foundation in Detroit.
John Ziraldo
(MPA '96)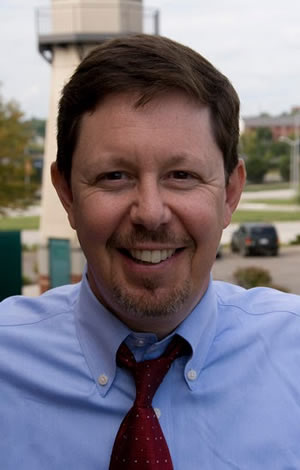 STEVE TOBOCMAN (MPP/JD '97) was quoted in a recent Wall Street Journal story about Midwest states embracing immigration and refugee resettlement as an economic development driver, in contrast to the recent executive order suspending all refugee resettlement. Steve continues to serve as director of Global Detroit and to co-chair the Welcoming Economies Global Network. This semester, he is co-leading a Ford School seminar, with ELISABETH GERBER, on the economic impact of refugee resettlement in Southeast Michigan.
SEAN JONES (MPP '00) was appointed the senior deputy assistant administrator of USAID's Bureau for Food Security in Washington, DC.
CALI MORTENSON ELLIS (MPP '01, PhD '15) is a Hayward R. Alker Postdoctoral Scholar Research Associate at the University of Southern California Center for International Studies. This fall, she will join the faculty of the public administration program at The Evergreen State College in Olympia, WA.
This spring, PERI STONE-PALMQUIST (MPP/MSW '05) celebrates her fifth anniversary leading the Student Advocacy Center of Michigan, which helps struggling K-12 students in Washtenaw, Wayne, and Jackson counties and beyond. She reports that she was gratified to play a part in ending "zero tolerance" laws in Michigan, an issue that sparked Peri's interest in attending the Ford School and one she studied in depth while pursuing her degrees. The new laws, which passed in December, go into effect this August.
STEPHEN BALL's (MPP '07) "The joy of mentoring—from thousands of miles away," was published in Harvard Magazine in December. Ball is government affairs counsel and East Coast regional director at CSAA Insurance Group. He also serves as a contributing writer for Black Enterprise Magazine.
NAOMI GOLDBERG (MPP '08) was recently promoted to research and policy director for the Movement Advancement Project, an LGBT think tank where she's worked for the past seven years.
ANDREAS HATZIGEORGIOU (MPP '08) was interviewed by the Carnegie New Leaders podcast for a program on "Global cities, migration, and Stockholm's economy." BEN FALIK (MPP/JD '09) is now corporate social responsibility lead for Fiat Chrysler Automobiles (FCA). In his new role, Ben manages Motor Citizens, FCA's national employee volunteer program, and works with the FCA Foundation to blend service and philanthropy.
BRIDGET HATHAWAY (BA '09) is a senior associate at Bodman PLC in Detroit where she represents clients involved in complex commercial litigation matters.
Olushola Samuel (BA '10) and Kelly Stokes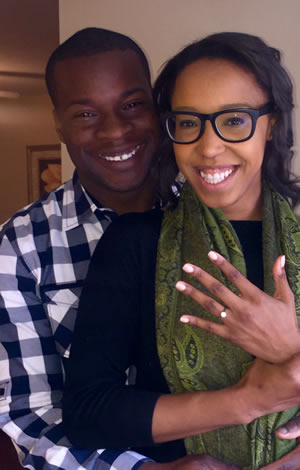 QING MIAO (MPP '09) joined the Rochester Institute of Technology as an assistant professor of public policy last fall. She completed her PhD in public administration at Syracuse University, and her research areas include environmental economics and policy, technological change, and public finance.
OLUSHOLA SAMUEL (BA '10) got engaged to Kelley Stokes in November—they will marry in 2018. Olushola is working at Beaumont Health in Southfield Michigan, and Kelley is a development officer at Wayne State University.
This May, RACHEL WHITE (BA '10) will graduate from Michigan State University with a doctorate in education policy. After graduation, she will serve as a postdoctoral fellow at the University of Southern California's Rossier School of Education. Rachel is a recipient of the Association of Education Finance and Policy's New Scholar Award for 2017.
CHRISTINA ZAJICEK (BA '10) has been promoted to director of sales for ForeFront Power, the distribution generation platform of SunEdison. Over the past few years, Christina reports that she "developed, contracted, and financed the largest community solar program in the nation in Minnesota." She now plans to develop new solar programs to increase access to clean and reliable energy for large energy users across the nation.
PARVATI PATIL (MPP '11) has relocated to Seattle with her family and is now working with the Global Good division of Intellectual Ventures (she previously worked at the World Bank in Washington, DC). Parvati reports that the Global Good team "collaborates with Bill Gates to invent, deploy, and commercialize technologies specifically focused on improving lives in developing countries." She looks forward to catching up with the Ford School community in Seattle.
Jennifer Williams (MPP '11)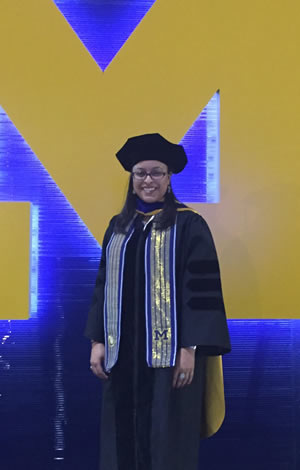 JENNIFER WILLIAMS (MPP '11) earned her doctorate in urban and regional planning at U-M last summer with a dissertation on "Understanding low-income residents' sense of community in post-apartheid housing developments in South Africa." She is now working as a housing and community development research analyst at Sage Computing, a Virginia-based government contractor for HUD.
KATIE D'HONDT (BA '12) has joined Booz Allen Hamilton's Strategic Innovation Group in Washington, DC. She works on projects related to cybersecurity and change management.
JONATHAN MOORE (MPP '12) is a 2017 Brookings Institution Legis Congressional Fellow. He is working with the House Ways and Means Health Committee Democratic staff.
In November, NATHAN RIX (MPP '12) was named a Navigator Award winner by Route Fifty, a subsidiary of Government Executive, for his work establishing Oregon's recreational marijuana program. In the same month, he was appointed director of executive projects with the Oregon Department of Human Services, where he reports that he's leading a team to redesign the state's foster care system.
JUSTIN TOOLEY (MPP '12) is special assistant for legislation and policy at the Office of the State Superintendent of Education in Washington, DC. Previously, Justin worked as a legislative assistant for Congressman Jim Cooper from Tennessee.
VANESSA KARGENIAN (MPP '13) and BRENDAN MALONE (MPP/MAE '15) are coauthors on a new paper, disseminated in the Finance and Economics Discussion Series of the Federal Reserve Board, on "Distributed ledger technology in payments, clearing, and settlement."
LORIG STEPANIAN (BA '13) was recently hired as a senior account executive on the consumer team at M Booth agency.
After running a non-profit company focused on entrepreneurship in Johannesburg, MADELYNNE WAGER (BA '13) is now working as a consultant in the investment climate team at the World Bank in Washington, DC. Next year she will move to France, then Singapore, to complete her MBA at INSEAD.
STEPHANIE ZAMORANO (MPP/MA '13) married Adrian Rodriguez on January 21, 2017. Many Fordies were in attendance, including POOJA BHATT (MPP '13), MONICA COX (MPP '13), CHRISTINA HAJ (MPP '13), SAM LOPEZ (MPP '13), KANIKA SHIELDS (MPP '13), SARAH ZARATE (MPP '13), and ALISON STROUD (MPP '14).
IMAH EFFIONG (MPP '14) and Josh Wondra (LSA PhD '17) were married in Dallas, Texas on August 20. They currently live in Chicago, Illinois.
ISAAC EPSTEIN (MPP '14) was elected to the New Hampshire House of Representatives in 2016 to represent Strafford District 13. He serves on the House Election Law Committee.
JONATHAN LUKE (MPP/MA '15) took a job with the Canada Revenue Agency last October, conducting experiments and research projects to improve tax collection and to understand tax evasion.
Avinash & Chiara Zoe - Class of 20??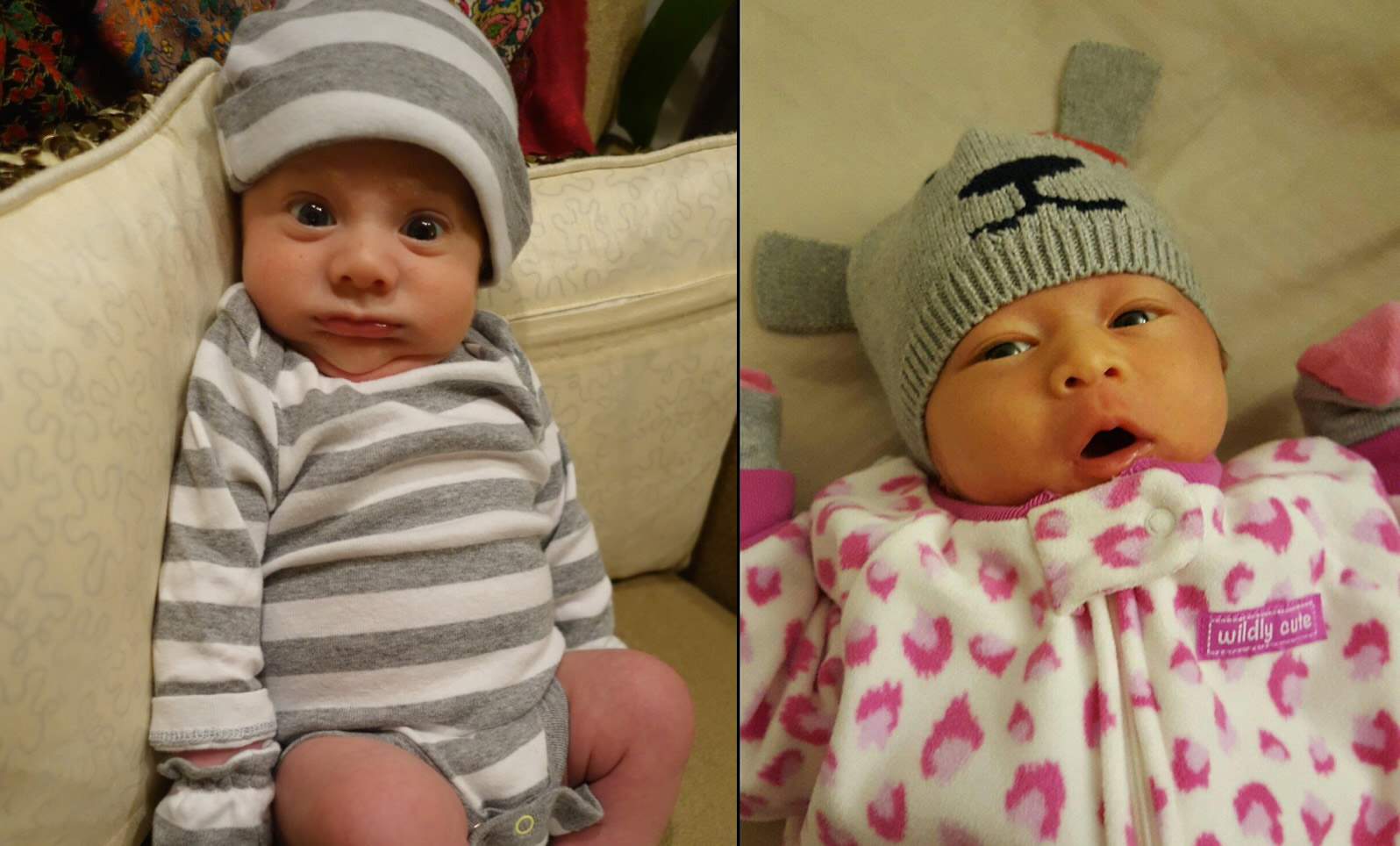 JENNIFER HONG WHETSELL (MPP '11) and her husband Jason welcomed a daughter, Chiara Zoe Whetsell, on December 15.
NIKETA BRAR (MPP '15) and Joe Kurstin welcomed Avinash Brar Kurstin into the world on December 31. Avi's mom will soon return to work in her new role as director of policy for Chicago Treasurer Kurt Summers.
In Memoriam
Richard Beers (MPA '53)
Richard Schwartz (MPA '57)
Charles Hetrick (MPA '57)
Patricia Arnaudo (MPA '65)
Herbert Freye (MPA '66)
Eunice Burns (MPA '70)
Ignacia Baez (MPP '03)

To share condolences, or to notify the Ford School of an alum who has recently passed, please contact Elisabeth Johnston, the Ford School's alumni relations manager, at eajohnst@umich.edu.
This list, which runs from January 2016–January 2017, was generated by U-M's alumni records office.
Submit class notes and photos online at fordschool.umich.edu/stay-connected/class-notes.
---
Below is a formatted version of this article from State & Hill, the magazine of the Ford School. View the entire Spring 2017 State & Hill here.