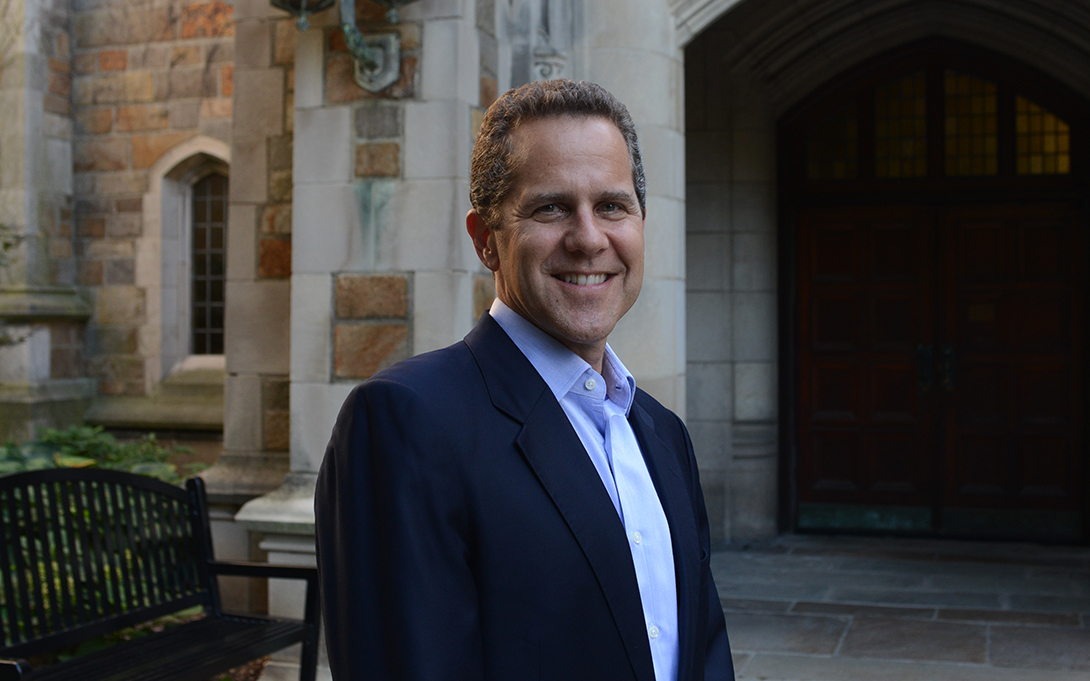 Michael S. Barr will be the new Joan and Sanford Weill Dean of Public Policy in the Gerald R. Ford School of Public Policy, effective Aug. 1. His five-year appointment was approved Thursday by the Board of Regents.
Barr is the Roy F. and Jean Humphrey Proffitt Professor of Law in the Law School and a professor of public policy in the Ford School.
"Michael Barr is a first-rate legal and public policy scholar with deep public policy experience.  His work combines large- scale empirical research and thoughtful legal analysis to generate insights into domestic and international financial regulation," said Interim Provost and Executive Vice President Paul N. Courant.
"He has given particular attention to how financial institutions affect the lives of low-income Americans and has helped to shape legislation for addressing inequities in the financial system."
Courant noted Barr's extensive experience in developing, enacting and implementing public policies, including serving in senior positions in the U.S. Treasury Department, State Department and White House across two administrations.
"His teaching is a successful blending of that experience with the rigorous analytical education that is a hallmark of the Ford School," said Courant. "I believe he will be an excellent dean for the school as it advances its work as a key contributor to policymaking at every level."
He received a Bachelor of Arts degree, in history, summa cum laude, from Yale University. A Rhodes Scholar, he received an MPhil in international relations from Magdalen College, Oxford University and a Juris Doctor from Yale Law School.
"I am honored to have been selected to serve as the Ford School's Dean," Barr said. "Together with Ford School faculty, staff, students and alumni, I am committed to helping the Ford School become even more inclusive, even more collaborative with colleagues across the university, and even more engaged in making a policy impact at the local, state, national and global levels."
Reflecting on the current political climate, Barr emphasized the need for a "civil, civic discourse" and argued that a diverse, equitable and inclusive Ford School community could be a model for a more "open and inclusive" national community as well.
Following his legal education, Barr served as a law clerk, first in the U.S. District Court, Southern District of New York, for the Honorable Pierre N. Leval, and then as clerk to Associate Justice David Souter of the United States Supreme Court.
Continuing in public service, he joined the policy planning staff of the U.S. Department of State. In 1995, he moved to the U.S. Department of Treasury where he was a special assistant to Secretary Robert E. Rubin before moving into the position of deputy assistant secretary of the treasury for community development policy, a role in which he served from 1997-2001. He concurrently served as special advisor to President William J. Clinton, from 1999-2001.
Barr joined the U-M Law School faculty in 2001 as an assistant professor of law. He has become a leading scholar in the field of financial law and policy.
On leave from the university in 2009-2010, Barr again served in the Department of Treasury, as assistant secretary for financial institutions, a Senate-confirmed position. In that capacity, he was a key architect of the Dodd-Frank Wall Street Reform and Consumer Protection Act of 2010. Barr played a central role in the development of the Consumer Financial Protection Bureau, and in policies to expand access to capital for small businesses and community development.
Since returning from leave, Barr has established and directed a new interdisciplinary Center on Finance, Law and Policy, bringing together faculty from across the university on projects designed to help make the financial system safer, fairer and better harnessed to the needs of the real economy.
His books include Financial Regulation: Law & Policy, No Slack: The Financial Lives of Low-Income Americans, Insufficient Funds and Building Inclusive Financial Systems.
Recognized for his dedication to students, Barr is co-founder of one of the university's first interdisciplinary clinics, the Detroit Neighborhood Entrepreneurs Project.  It works in partnership with the  Detroit Development Fund and Lifeline to connect small business owners in the city with students and faculty from the Law School, the Ross School of Business, the Stamps School of Art and Design and the College of Engineering who can assist them with business development. Earlier in his career, Barr co-founded the International Transactions Clinic.
He has served as an adviser to a range of public policy initiatives and non-profit organizations, including the Brookings Institution and the Center for American Progress, the FDIC Advisory Committee on Economic Inclusion, the Gates Foundation and the Washington Center for Equitable Growth.
— Kim Broekhuizen is the Lead Public Affairs and Media Relations Representative for the University of Michigan.