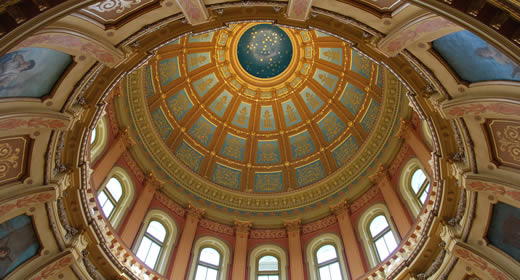 An overwhelming majority of local government leaders in Michigan support reform of the state's controversial emergency manager law, according to a new survey by University of Michigan researchers.
Officials from more than 1,300 cities, counties, townships and villages participated in this latest Michigan Public Policy Survey, conducted by the Center for Local, State, and Urban Policy at U-M's Gerald R. Ford School of Public Policy.
"What's clear in this survey is strong support to reform the law," said Thomas Ivacko, program manager at CLOSUP. "Other aspects are less clear and have some evidence on both sides. For example, less than a majority support the emergency manager law overall, but there's a lot more support than outright opposition."
The researchers asked local government representatives about their views on the emergency manager law—formally known as the Local Financial Stability and Choice Act—and possible reforms.
Most local leaders believe they and the citizens they represent should have some say in the emergency manager's decisions. They also want managers to take a broader approach—one that balances quality of life concerns with cost-cutting measures.
"These are cities that have already suffered significant cuts in services," Ivacko said. "The ranks of police officers are down in many cases. They may have already lost important homeless services, park upkeep or infrastructure maintenance, for example.
"And the emergency manager comes in and just cuts more costs and services. What local leaders want to see is that emergency managers not just do that, but also find ways to improve services."
The survey found that:
76 percent of local leaders favor requiring emergency managers to get input from the elected leaders in their jurisdiction.
71 percent favor requiring them to get input from citizens.
"These changes, while still leaving final decision-making authority with the emergency manager, would presumably address concerns that the law is undemocratic, by at least providing greater opportunities for local stakeholders' voices to be heard before important decisions are taken," said Debra Horner, project manager at CLOSUP and co-author of the report.
In addition:
63 percent feel that emergency managers should work to improve factors beyond just a community's finances, such as improving service delivery, infrastructure and quality of life.
57 percent support the idea of a state-level ombudsman to oversee emergency managers and listen to localities' concerns.
50 percent support the idea of allowing emergency managers to inject new time-limited state or local revenue options such as grants, state aid or temporary tax increases.
48 percent feel that emergency managers should be required to consider the effects of their pending decisions on disadvantaged groups.
While 20 states allow some version of emergency management or state intervention, Michigan has the nation's most aggressive state-takeover law, which lets Lansing step in to resolve fiscal crises in cities, counties, villages or townships.
Michigan's emergency manager law drew national attention in 2012 when a lame-duck legislature pushed the current version through after voters repealed a similar law in a statewide referendum. Since that time, emergency managers have had high-profile involvement in Detroit's bankruptcy proceedings and the Flint water crisis.
Two state panels reporting to Governor Rick Snyder—the Civil Rights Commission and the Flint Water Advisory Task Force—have pinned at least partial blame for Flint's water problems on the emergency manager law, and have called for reforms. The city's emergency manager made the decision to switch the city temporarily to Flint River water to save money.
The survey shows that local leaders' concerns about the emergency manager law go beyond the situation in Flint.
While the number of local leaders across Michigan who support the emergency manager law doesn't reach a majority, significantly more support it (43 percent) than oppose it (26 percent). Twenty-two percent are neutral and 10 percent undecided.
Just under half—48 percent—of local leaders, overall, believe the emergency manager law is effective at restoring fiscal health in the short term for jurisdictions under the control of an emergency manager. But that number drops to 35 percent who say it will be effective at establishing sustainable financial conditions for these places in the long term.
Sixty percent favor the choice aspect of the law, which allows financially troubled jurisdictions to choose from state remedies. They can select to have an emergency manager appointed, pursue bankruptcy, undertake mediation with creditors or negotiate a consent agreement with the state.
Less than a majority support individual provisions of the law, such as allowing emergency managers to overturn union contracts or to set aside all decision-making authority of local elected officials.
Michigan News release by Nicole Casal Moore (MPA '15), lead public relations representative