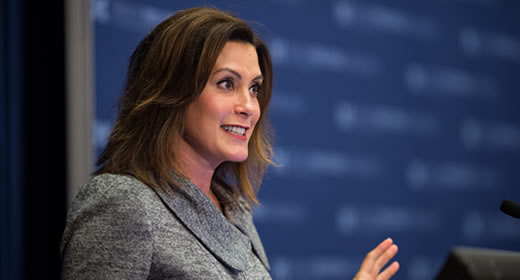 Gretchen Whitmer, a former Towsley Foundation Policymaker in Residence at the Ford School, has filed the paperwork required to launch her Michigan gubernatorial campaign.
Governor Rick Snyder steps down from the post due to term limits in 2018, and a number of prominent Michigan politicians are contemplating a run for the open seat; Whitmer is the first to file the required paperwork.
Whitmer is a former Michigan state senator and senate Democratic leader who has taught a course on "Running, Serving, and Leading" at the Ford School since 2015. 
Her candidacy is the feature of a series of stories this week, including: "Gretchen Whitmer files for 2018 Michigan governor's race," by Kathleen Gray and Paul Egan for the Detroit Free Press; "Democrat Gretchen Whitmer running for Michigan governor," by Jonathan Oosting for the Detroit News; "Democrat Gretchen Whitmer expected to file in 2018 governor's race Tuesday," by Lauren Gibbons for MLive; "Whitmer to seek Dem nod for governor in 2018" by Rick Pluta for Michigan Radio; and more.
PRESS: Members of the media may download and use high-resolution photos of Whitmer with attribution.
---
Gretchen Whitmer is interim prosecutor for Ingham County, Michigan. From 2000-06, she represented residents of East Lansing, Michigan in the state house; from 2006-14, she represented East Lansing residents in the state senate. In 2011, Whitmer was elected the Senate Democratic Leader and became the first woman to lead a caucus in the history of the Michigan Senate.