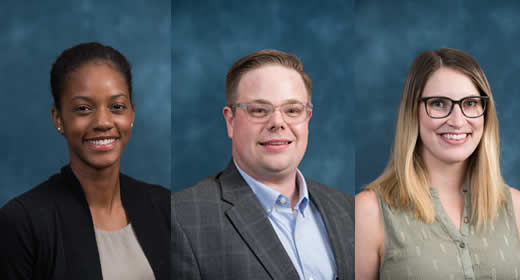 Three Ford School graduate students have recently been selected to serve the City of Detroit Mayor's Office as David Bohnett Leadership and Public Service Fellows. They will complete their service assignments during the summer of 2018, and will join a growing number of Bohnett Fellows who have served the city since this innovative fellowship was launched in 2010.
Over the past six years, Bohnett Fellows have supported a wide variety of public service improvements in Detroit, including the expansion of curbside recycling, the improvement of public lighting, the development of plans to streamline the small business application process, and more. We anticipate that our newest fellows will assist city administrators with a number of worthwhile initiatives, and we extend our heartfelt thanks to University of Michigan alumnus, David Bohnett (MBA '80), who established the fellowship, and to the Detroit administrators who will work with our fellows next summer.
Lindsey Barrett
Lindsey Barrett is an elementary educator with experience in education and urban policy. Prior to joining the Ford School, she spent four years teaching in her hometown, Detroit, at the Henry Ford Academy Elementary School. While teaching, Barrett served as an Educator Voice Fellow, learning how Michigan's education policies are formed, building her advocacy and leadership skills, and sharing her expertise with city and state education policy leaders.
Matthew Dobson
Matthew Dobson is a software engineer with an interest in information technology policy. He spent five years in Detroit's tech sector, where he co-organized events that brought the city's technology community together to build better solutions for government and nonprofit organizations. He helped establish a Detroit office for the Silicon Valley-based firm Apigee, and promoted the firm's solutions to large business and government agencies.
Anna Zinkel
Anna Zinkel is an economic development professional with an interest in education workforce development policy. She has spent the last two-and-a-half years as a business development manager with Ann Arbor Spark, a regional economic development organization. Prior to that, she worked on the political campaigns of a U.S. Senator and Michigan State Representative, and worked as a constituent relations director for a Michigan legislator. She currently serves on the Washtenaw Community College Foundation Board, where she focuses on making public education more affordable and accessible.
---
David Bohnett is a University of Michigan alumnus (MBA '80) and entrepreneur. The foundation that bears his name is committed to improving society through social activism. Read more about David Bohnett in the State & Hill feature, "To the City and the World."