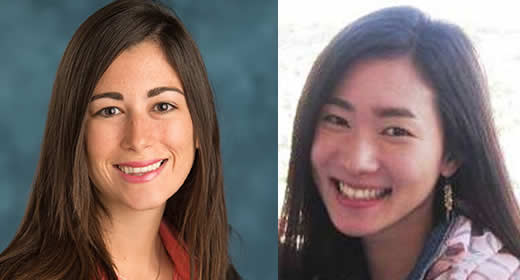 On April 18, 2019, Rackham Graduate School announced this year's winners of their Predoctoral Fellowship, which included two Ford School joint-PhD students, Jessica Gillooly (sociology) and Jieun Lee (political science).
Awarded across disciplines, Rackham doctoral candidates who meet the requirements are chosen based on the "strength and quality of their dissertation abstract, publications and presentations, and recommendations" to receive this 12-month fellowship.
Jessica Gillooly's dissertation, titled "9-1-1, what's your emergency?": How 9-1-1 Operators Construct Emergencies and Shape Call-Driven Policing, delves into the intricacies of call-driven policing, particularly as they have led to recent racially-motivated incidents. Drawing on her own experiences as a 9-1-1 dispatch call taker, Gillooly "uses ethnographic, conversation analytic, and quantitative methods" to "challenge the legitimacy of reactive policing."
Ford's other recipient, Jieun Lee, focuses on understanding "the political interests and engagement of global firms in other countries." Lee's dissertation, titled Foreign Direct Investment in Political Influence, uses three distinct but related papers to paint a picture of subsidiary relations with U.S. and foreign firms. Lee says that "collectively, these papers lend support to a theory that foreign firms use local subsidiaries to gain political access and leverage elsewhere."

To read more about Gillooly and Lee's works along with other recipients of the 2019-2020 Rackham Predoctoral Fellowship, click here.